Color and Other Optical Characteristics: Ancient Perception and Reception
We may imagine that when Zeus revealed his true form to Cadmus's daughter Semele at her rash request, his blinding brilliance was enough to reduce her to ashes even if he had left his thunderbolts behind. The name Zeus has associations of luminosity (it is derived from a word that means "to shine"), as do many of the common epithets for Greek deities: Phoebus Apollo means "radiant Apollo," and the goddess Athena is often described in Homer as glaukopis, which can be translated as "with gleaming eyes." Apollo appears to his worshippers at Delphi in a blaze of flame and brilliant light in the Homeric Hymn to Apollo. Similarly, the great heroes of ancient Greece often are depicted with a bright glow about them—like Achilles in the Iliad, "shining in all his armor like the sun."72
In Quintus Smyrnaeus's fourth-century A.D. Fall of Troy, the mourners at Ajax's funeral lay "gleaming gold" and "lucent amber-drops" around his body.73 This connection between the radiance of precious jewels and the brilliance of heroes and gods was established in Greece as early as Homer. Given the strong associations among the dazzling, the divine, and the heroic, the choice of amber for a piece of jewelry or a work of art indicated a divine or heroic subject. For example, Pausanias mentions in his Description of Greece the amber statue of the emperor Augustus.74 The image must have been a "marvel to behold."
When amber was considered in terms of its hue (instead of its brilliance), the images it evoked were no less striking. The most sought-after pieces ranged from yellow to red—colors that were associated with fire and the precious metal gold (figure 21).75 The fiery and glowing colors were important to life, marriage, and death and were linked with divine forces. Yellow and red were redolent of fire (and consequently the sun) and of light itself, and were symbolic of life and regeneration.76 In the Roman writings of Martial and Juvenal, gold was often referred to as being red.77 And since Homer, amber and gold had been paired, and both were symbols of the sun.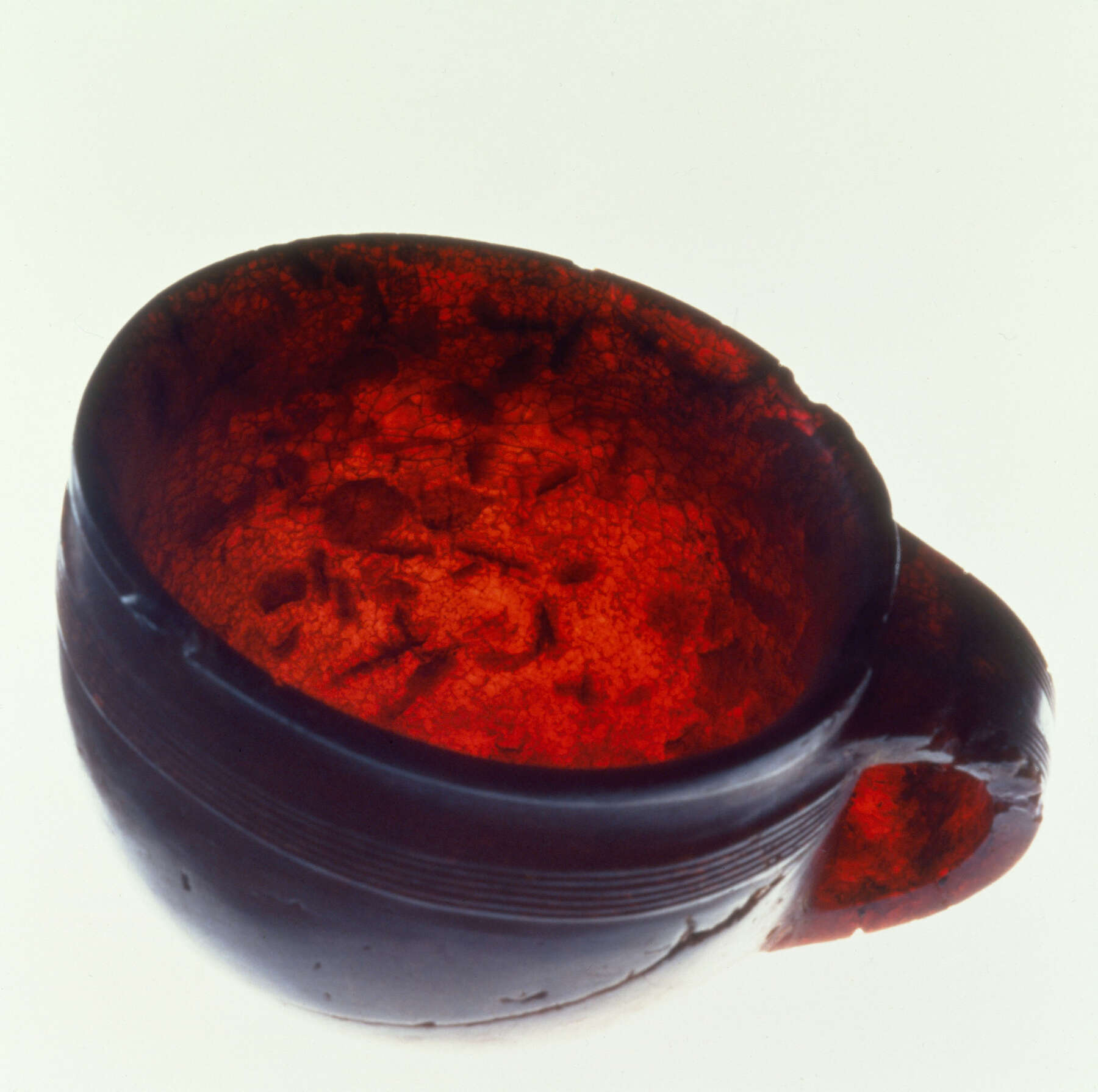 The various images that a gemstone's color conjured up could sometimes, as in the case of elektron, determine its name. As we noted, etymologically the word is probably connected with elektor, "the beaming sun," the root meaning being "brilliant." Pliny the Elder, for instance, talks about a variety of jasper that was called boria (meaning "northern") "because it is like the sky on an autumn morning."78 And when Pliny discusses the different colors of amber, his terminology is almost invariably metaphorical. "The pale kind," he writes, "has the finest scent, but, like the waxy kind, it has no value. The tawny is more valuable and still more so if it is transparent, but the color must not be too fiery; not a fiery glare, but a mere suggestion of it, that is what we admire in amber. The most highly approved specimens are the 'Falernian,' so called because they recall the color of the wine; they are transparent and glow gently, so as to have, moreover, the agreeably mellow tint of honey that has been reduced by boiling."79
The metaphorical resonance of the colors associated with amber, like the divine and heroic associations of its brilliance, would doubtless have played an instrumental role in the kinds of subjects carved in amber and in its use. In ancient gemstones, a correspondence between color and subject was desired. According to an ancient epigram, the Nereid Galene was cut into an Indian beryl because the stone's blue color was appropriate for this personification of the calm sea.80
Amber's fragrance—it is the only "stone" that is both shining and fragrant—is enhanced through rubbing.81 Amber is thus a perfect material for a divine image, especially when we recall that "statues were regularly polished with perfumed oils, perhaps matching the emanation of fragrance that forms so regular a part of divine ephiphanies."82 Not only the fragrance, but also the great age of the material, its mysterious origins, its transmuted nature, and its electromagnetic, optical, and other properties, as well as its divine and heroic epithets, would have evoked a variety of ideas in its beholders—radiant Apollo, the fiery sun, Olympian honey, Falernian wine.
Bibliography
Carter and Morris 1995

Carter, J. B., and S. P. Morris, eds. The Ages of Homer: A Tribute to Emily Townsend Vermeule. Austin, TX, 1995.

Gage 1993

Gage, J. Color and Culture: Practice and Meaning from Antiquity to Abstraction. Boston, 1993.

Plantzos 1999

Plantzos, D. Hellenistic Engraved Gems. New York, 1999.

Sebesta and Bonfante 1994

Sebesta, J. L., and L. Bonfante, eds. The World of Roman Costume. Madison, WI, 1994.

Steiner 2001

Steiner, D. T. Images in Mind: Statues in Archaic and Classical Greek Literature and Thought. Princeton, 2001.

Wilkinson 1994

Wilkinson, R. H. Symbol and Magic in Egyptian Art. London, 1994.