Family Forum
The Getty Villa
Location:
Getty Villa, Museum, Floor 1
Please note that the Family Room is temporarily closed as part of Getty's response to the coronavirus (COVID-19).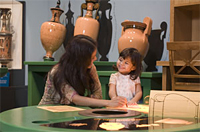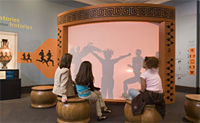 The Family Forum is a highlight of any family visit to the Getty Villa. This fun space is filled with hands-on activities designed to encourage children and families to explore, play, and learn together. The focus is on the world of ancient Greek vases—how they were made, decorated, and used. There's lots to touch, learn, and enjoy:


Step into a scene from an ancient vase in the shadow-pose area, where you can transform yourself into an athlete, musician, or even a monster and act out your own original stories.
Explore vase-painting techniques used by ancient craftsmen in the vase-decorating area, where you can rub patterns off designs inspired by ancient examples or draw on life-sized replicas of ancient vases.
The Family Forum was created with the generous support of the Villa Council.


How to Get Here
The Getty Villa is located at 17985 Pacific Coast Highway in Malibu, California, approximately 25 miles west of downtown Los Angeles. See Hours, Directions, Parking for directions and parking information.