International Course on the Conservation of Earthen Architecture
October 28–November 22, 2018
Al Ain, United Arab Emirates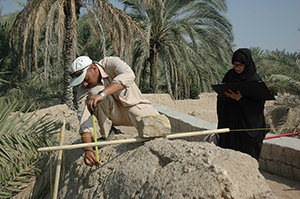 The International Course on the Conservation of Earthen Architecture, 2018 (EAC18) is a monthlong training initiative to be held in the World Heritage City of Al Ain, in Abu Dhabi, UAE, and organized in partnership with the Department of Culture and Tourism-Abu Dhabi.
Course Content
This course will be led by local and international experts. Participants will use Al Ain as an open-air laboratory to learn practical, hands-on methods for preserving earthen buildings and archaeological sites. Through lectures, discussions, laboratory sessions, demonstrations, site visits and field exercises, participants will learn fundamental theories of conservation as well as advances in technology and research that have influenced practical approaches to earthen architecture conservation. Group fieldwork at a worksite will provide participants with the opportunity to address actual work scenarios where multidisciplinary solutions and collaboration are required.
Course topics include:
Conservation theory and principles
Laboratory and field analysis of earthen materials
Earth as a building material—use and construction techniques
Mechanisms of decay—material and structural
Methods of recording for documentation and analysis
Conservation methodology—Planning of conservation and rehabilitation interventions
Practical conservation methods—structural and non-structural
Conservation of earthen archaeological sites and decorative surfaces
Maintenance and preventive conservation
Developing rehabilitation and adaptive re-use projects for earthen buildings
A study trip to Oman where participants will carry out an exercise on the conservation of urban settlements made of earth (Nizwa, Oman)
Eligibility
The course is designed for a maximum of 20 participants. It is open to archaeologists, architects, conservator-restorers, conservation scientists, engineers and other professionals from the Middle Eastern, North African, and South Asian regions, working with earthen heritage.
Language
The course will be conducted in English. Candidates must have a thorough technical knowledge and command of English. A certificate of language proficiency is required.
Course Fee
The course fee of US$750 includes tuition, course materials and lodging in Al Ain. Participants are responsible for their travel costs to Abu Dhabi and from Muscat, Oman and for other expenses associated with the workshop. Participants should plan for a minimum allowance of US$500 to cover expenses.
Candidates are strongly encouraged to seek financial support from sources such as governmental institutions, employers, and funding agencies. Depending on the availability of funding, the course organizers may be able to offer a limited number of scholarships to selected candidates who have been unable to secure funding.
Insurance
All participants are required to have health and accident insurance for the duration of the course.
Visas
The Department of Culture & Tourism (DCT) will provide support in processing visa applications for successful applicants; however, DCT cannot guarantee visa clearance by local authorities.
Certificate of Completion
A course certificate will be awarded to participants who complete the course including attending all course activities.
To Apply
Please complete the application and supporting materials according to the instructions below. Applicants should prepare information in advance and be ready to complete, save, and email the form and additional documents in one sitting.
Step 1: Download the PDF application form to your computer.
Step 2: Rename the PDF file using your last name as the file name (example: Smith.pdf).
Step 3: Open the application form in Acrobat Reader* only. Do not complete the form from within any browser window (Chrome, Safari, etc.) or in Preview (Mac users), as it will not be fully functional.
Step 4: Complete the form; save it. Email the application from and supporting materials (CV), to EAC18@getty.edu with "EAC 18 Application" in the subject line. Do not use the submit button.
Deadline for submission: March 1, 2018.
Selection
Final selection of applicants will be made according to the eligibility criteria outlined above by April 15, 2018.
If you have questions about EAC 18, the application process, or require additional information, please contact EAC18@getty.edu.
Page updated: November 2017