Cleaning of Acrylic Painted Surfaces
Workshop 2013: Lunder Conservation Center, Washington DC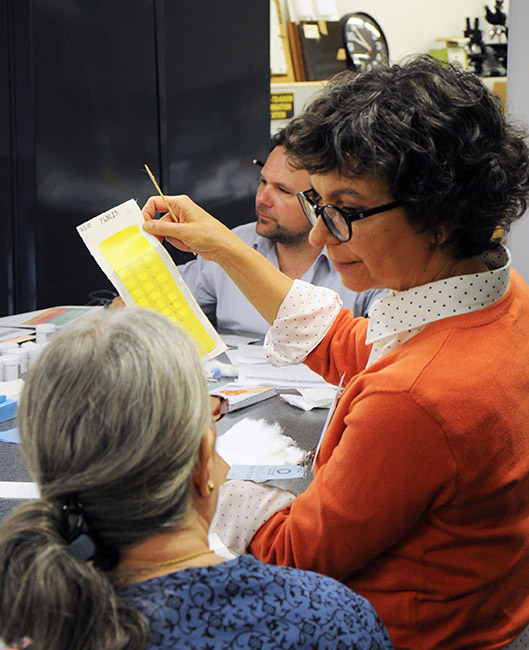 The third Cleaning of Acrylic Painted Surfaces (CAPS) workshop was held from April 30 to May 3, 2013 at the Lunder Conservation Center in Washington DC. Fifteen conservators from around the US and Canada worked with workshop instructors to explore the theory and application of cleaning systems for acrylic painted surfaces.
The workshop began with an overview of recent advances in the cleaning of acrylic paints, including new cleaning systems that are currently undergoing testing. The majority of the workshop schedule was dedicated to hands-on work in the Lunder conservation laboratories, with the practical aim of understanding how cleaning systems work with acrylic paint surfaces and how they can be tailored for specific conditions and challenges.
Group discussions during the workshop provided a forum to evaluate the applicability and efficacy of different materials and approaches, based on the empirical observations of participants. These findings add to a growing body of information about the actual use of cleaning systems, which complements ongoing scientific research and advances conservation practice. Group conversations also included insights from personal treatment experiences and addressed outstanding issues and research priorities or the field.
As with the previous CAPS workshops, the aim was to disseminate new research on the cleaning of acrylic painted surfaces and to help conservation professionals put this research into practice. To further this aim, select teaching materials from the CAPS workshop, including a bibliography, teaching outlines, technical notes and instructional videos are being made available to the field on the GCI website.
The ongoing series of CAPS workshops are part of the GCI's
Research into Practice Initiative
which seeks to facilitate the application of new research to practical conservation problems, drawing upon the perspectives of both scientists and conservators. Future CAPS workshops are planned for Australia, Europe and Southeast Asia.
Instructors for the workshop: Tom Learner (GCI)
Bronwyn Ormsby (Tate, London)
Chris Stavroudis (freelance conservator, Los Angeles)
Richard Wolbers (Winterthur/University of Delaware Program in Art Conservation)