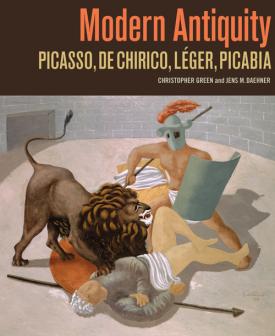 Juxtaposing 20th-century works with ancient objects, this exhibition focuses on how four eminent artists reinvented and transformed the artistic legacy of antiquity. Classicizing creations such as Giorgio de Chirico's enigmatic piazzas, Pablo Picasso's postcubist women, Fernand Léger's mechanized nudes, and Francis Picabia's "transparencies" made the arts of antiquity modern. The Getty Villa—a modern reconstruction of an ancient Roman house—and its antiquities collection provide a unique environment to experience early 20th-century art in relation to the classical past.
AUDIO: Curators Christopher Green and Jens Daehner introduce the exhibition.
Update Required
To play the media you will need to either update your browser to a recent version or update your
Flash plugin
.
Picasso, de Chirico, Léger, and Picabia all looked to classical antiquity to feed their imaginations and yet remained radical figures in early 20th-century art. These avant-garde artists had no wish to return to a lost past; the antiquity they knew, primarily in museums, was for them a vital element of contemporary life. Their supporters believed that profound affinities existed between ancient and modern works. But these artists did not view antiquity as another culture to be compared with theirs. It was—for each of them in a different way—such a part of their present-day experience that it was in effect modern.
The modern works by Picasso, de Chirico, Léger, and Picabia featured in this exhibition are displayed alongside ancient art, continuing a dialogue between the modern and the antique that is still alive today. Exploring three thematic categories—stories, bodies, and objects—the exhibition illuminates what these 20th-century artists found arresting in ancient culture. As they have embraced and transformed antiquity, their works inform how we now perceive classical art.
Explore the exhibition:
Four Artists, Four Approaches
Myths and Stories
Bodies and Figures
Objects and Fragments
The exhibition is on view November 2, 2011, to January 16, 2012, at the Getty Villa, Floor 2. It will subsequently be presented at the Musée Picasso in Antibes, France, February 16 to May 20, 2012.

Modern Antiquity: Picasso, de Chirico, Léger, and Picabia in the Presence of the Antique is organized by the J. Paul Getty Museum in association with the Musée Picasso, Antibes, and is supported by an indemnity from the Federal Council on the Arts and the Humanities. The exhibition is co-curated by Christopher Green, professor emeritus, Courtauld Institute of Art, London, and Jens Daehner, associate curator of antiquities, J. Paul Getty Museum.

Artwork images were removed from this page after the close of the exhibition, when the Getty's rights to use them expired.
Publication

Related Information
On the Blog