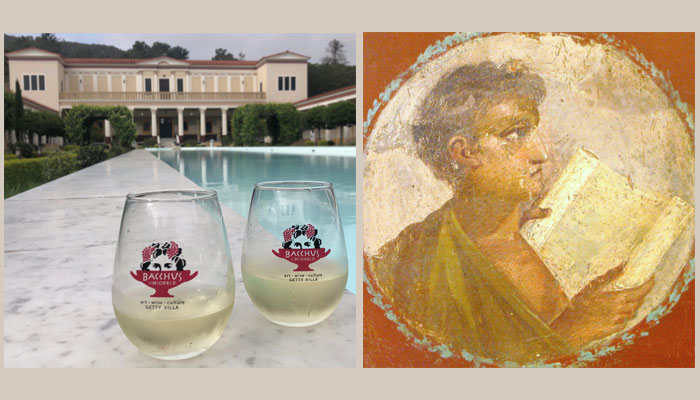 Bacchus Uncorked: Drinking and Thinking
GETTY VILLA
The Getty Villa
This is a past event
Luxury Roman villas offered the leisure to discuss important topics—such as leading a good life—over wine. The library of the Villa dei Papiri contained books by the Epicurean philosopher Philodemus, who promoted a life of pleasure through moderation. Learn about the enduring relevance of Epicurean ideas from philosopher-classicist Timothy O'Keefe, then enjoy wine curated by wine educator Diego Meraviglia and conversation with fun-loving philosophers amid the Villa's beautiful architecture and gardens.

Tickets: $75, includes wine and appetizers; complimentary parking. 21 and over.

This program is inspired by the Villa dei Papiri, the ancient model for the Getty Villa and the subject of the exhibition Buried by Vesuvius: Treasures from the Villa dei Papiri on view through October 28.

Timothy O'Keefe is an associate professor of philosophy at Georgia State University in Atlanta. His research interests are in Greek and Roman philosophy with a particular interest in Hellenistic philosophy and Epicurus. He has written extensively on these subjects and is the author of Epicureanism (2009) and Epicurus on Freedom (2005). When not teaching, reading, and writing, O'Keefe enjoys hiking, camping, biking, home brewing, and being a news junkie.

Learn about additional Bacchus Uncorked programs:
July 27: Bacchus Uncorked: Wine and the Senses
August 3: Bacchus Uncorked: Villas and Vineyards

Planning your visit:
The Getty Villa and its galleries are open to the general public from 10:00 a.m. until 5:00 p.m. Check-in opens one hour to program start time in the auditorium lobby, and seating in the auditorium opens 30 minutes prior. This is a general admission program and seating is open. The Cafe is open for lunch service from 11:00 a.m. until 3:00 p.m., and the Getty Store is open until 5:00 p.m. The exhibition Buried by Vesuvius: Treasures from the Villa dei Papiri will be open for viewing after the lecture to program guests. Wine tasting takes place in partially-covered outdoor spaces; please dress accordingly. Click here for more information.
Need help?
Contact us!
9 am–5 pm,7 days a week
(310) 440-7300