No Further West: The Story of Los Angeles Union Station
May 2–August 10, 2014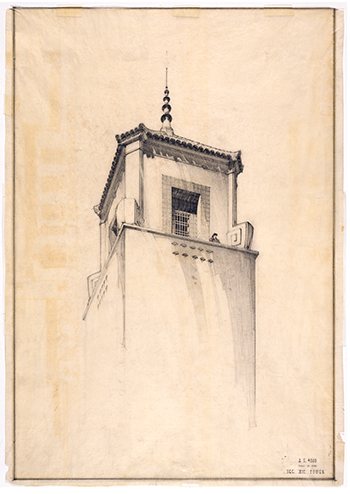 Panel Discussion
No Further West: The Story of Los Angeles Union Station
Thursday, May 29, 2014, 7:15 p.m.
A panel of experts discusses the history of Union Station and visions for its future. Moderated by Kevin Roderick, editor,
LA Observed
.
Presented by the
Library Foundation's ALOUD
series.
Free; reservations required: (213) 228-7025.
Exhibition Tours
Curators Marlyn Musicant and Greg Goldin lead in-depth tours of the exhibition. Meet in the Lodwrick M. Cook Rotunda in the Central Library.
Free; reservations required.
Contact
sarahlancaster@lfla.org
or (213) 228-7103.
Saturday, May 10, 11:00 a.m.
Thursday, June 12, 1:00 p.m.
Wednesday, July 9, 11:30 a.m.
Friday, August 1, 1:30 p.m.
Film Screening
The Harvey Girls: Opportunity Bound (2013)
Saturday, May 31, 8:00 p.m. (Doors open at 7:00 p.m.)
Fred Harvey Room, Los Angeles Union Station
This documentary explores how starting in the 1880s, over 100,000 brave young women, Harvey Girls as they were called, made an unusual decision to leave home and travel west to work as waitresses along the transcontinental railroad. The film screening is followed by a Q&A with Katrina Parks (director/writer), Michael Parks (executive producer), and Thaddeus Homan (producer/editor).
Presented by Metro. Admission is free. Seating is on a first-come, first-served basis. Visit
Metro
for more information.
Tours of Union Station
The Los Angeles Conservancy leads tours of Union Station on the 3rd Saturday of every month. For information and reservations, visit the
Los Angeles Conservancy
or call (213) 623-2489.
Publication

Lesson Plans
Video and Podcast
This exhibition is organized by the Getty Research Institute with the generous participation of the Automobile Club of Southern California.