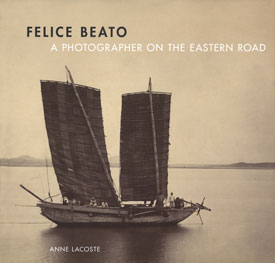 Exhibition Catalogue
Felice Beato: A Photographer on the Eastern Road
Anne Lacoste with an essay by Fred Ritchin
2010
212 pages
PDF file size: 28.8 MB
Description
In this volume, Anne Lacoste offers an ample overview of Beato's career, tracing his development as a photographer and situating his work within the historical context of late-nineteenth-century Asia; sidebar texts illuminate such subjects as Beato's masterful technique and his innovative Japanese albums. Lacoste's judicious critical and biographical survey is complemented by the noted critic Fred Ritchin's thought-provoking essay examining the relevance of Beato's pioneering war photography to the image-saturated media culture of today. Readers will also find captivating period ephemera and a full chronology.
Table of Contents
Foreword, David Bomford
Note to the Reader
Felice Beato: A Photographer on the Eastern Road, Anne Lacoste
Portfolio: Plates 1–80
Felice Beato and the Photography of War, Fred Ritchin
Portfolio: Plates 81–120
Selected Chronology
Appendix: Facsimiles of the Henry Hering Catalogue
Acknowledgments
Notes
Selected Bibliography
Index
About the Authors
Anne Lacoste is an assistant curator of photographs at the J. Paul Getty Museum.
Fred Ritchin is a former photograph editor of the New York Times Magazine and is a professor of photography and imaging at New York University's Tisch School of the Arts.