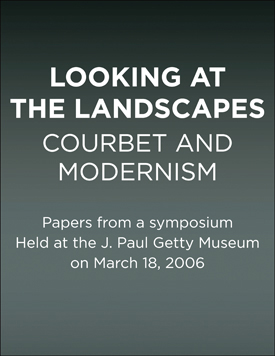 Looking at the Landscapes: Courbet and Modernism
Edited by Mary Morton, with contributions by David Bomford, Petra ten-Doesschate Chu, Dominique de Font-Réaulx, Paul Galvez, and Klaus Herding
2007
87 pages
PDF file size: 2.17 MB
Description
In this daylong symposium, a group of international experts and scholars of nineteenth-century art gathered to discuss Courbet's landscape oeuvre and debate his contribution to the history of modern painting, in conjunction with the exhibition Courbet and the Modern Landscape.

The preface by Mary Morton and five papers presented here comprise the J. Paul Getty Museum's first online-only publication.
Table of Contents
Preface
Mary Morton
Rough Manners: Reflections on Courbet and Seventeenth-Century Painting
David Bomford
The Purposeful Sightseer: Courbet and Mid-Nineteenth-Century Tourism
Petra ten-Doesschate Chu
Parallel Lines: Gustave Courbet's "Paysages de Mer" and Gustave Le Gray's Seascapes, 1856–70
Dominique de Font-Réaulx
Painting at the Origin
Paul Galvez
"The more you approach nature, the more you must leave it": Another Look at Courbet's Landscape Painting
Klaus Herding
About the Authors
Mary Morton is Associate Curator of Paintings at the J. Paul Getty Museum, Los Angeles.

David Bomford is Associate Director of Collections at the J. Paul Getty Museum, Los Angeles.

Petra ten-Doesschate Chu is Professor of Art History at Seton Hall University in South Orange, New Jersey.

Dominique de Font-Réaulx is Curator of Photography at the Musée d'Orsay, Paris.

Paul Galvez is a Ph.D. candidate at Columbia University, New York.

Klaus Herding is Professor Emeritus of Art History at the University of Frankfurt, Germany.