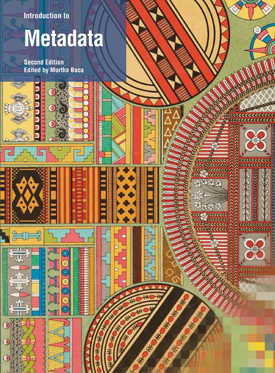 Introduction to Metadata (2nd edition)
Edited by Murtha Baca, with contributions by Anne J. Gilliland, Tony Gill, Mary S. Woodley, and Maureen Whalen
2008
88 pages
PDF file size: 2.70 MB
Description
Read the new, third edition of Introduction to Metadata online. Paperback and e-book versions also available for sale. Published July 2016.

Metadata, literally "data about data," provides a means of indexing, accessing, preserving, and discovering digital resources. The volume of digital information available over electronic networks has created a pressing need for standards that assist in locating, retrieving, and managing this vast and complex universe of information.

This revised edition of Introduction to Metadata, first published in 1998 and updated in an online version in 2000, provides an overview of metadata: its types, roles, and characteristics; a discussion of metadata as it relates to resources on the Web; a description of methods, tools, standards, and protocols that can be used to publish and disseminate digital collections; and a handy glossary.

Newly added to this edition are an essay on the importance of standards-based rights metadata to the activities of cultural institutions; a section entitled "Practical Principles for Metadata Creation and Maintenance"; and the latest information on metadata harvesting and the role of Google and other commercial search engines in the rapidly evolving field of digital libraries.

The Introduction To series deals with complex issues and tools related to the production, management, and dissemination of cultural heritage information resources.
Table of Contents
Introduction
Murtha Baca
Setting the Stage
Anne J. Gilliland
Metadata and the Web
Tony Gill
Crosswalks, Metadata Harvesting, Federated Searching, Metasearching: Using Metadata to Connect Users and Information
Mary S. Woodley
Rights Metadata Made Simple
Maureen Whalen
Practical Principles for Metadata Creation and Maintenance
Glossary
Selected Bibliography
Contributors
About the Authors
Press Reviews and Awards
"An excellent starting point for information professionals to gain a basic understanding of fundamental concepts, then move ahead with a guided path for further research and study." —Art Documentation