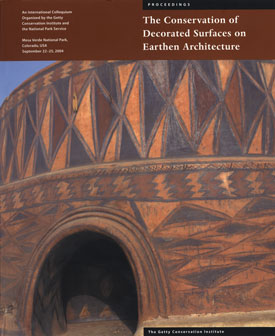 The Conservation of Decorated Surfaces on Earthen Architecture: Proceedings from the International Colloquium Organized by the Getty Conservation Institute and the National Park Service
Edited by Leslie Rainer and Angelyn Bass Rivera
2006
220 pages
PDF file size: 40.2 MB
Description
For millennia, people of all cultures have decorated the surfaces of their domestic, religious, and public buildings. Earthen architecture in particular has been, and continues to be, a common ground for surface decoration such as paintings, sculpted bas-relief, and ornamental plasterwork. This volume explores the complex issues associated with preserving these surfaces. Case studies from Asia, Europe, Africa, the Middle East, and the Americas are presented.

The publication is the result of a colloquium held in 2004, at Mesa Verde National Park, Colorado, co-organized by the Getty Conservation Institute (GCI) and the National Park Service (NPS). The meeting brought together fifty-five conservators, cultural resource managers, materials scientists, engineers, architects, archaeologists, anthropologists, and artists from eleven countries to present recent conservation work and discuss possibilities for future research and collaboration.

Divided into four themes—Archaeological Sites, Museum Practice, Historic Buildings, and Living Traditions—the papers examine the conservation of decorated surfaces on earthen architecture within these different contexts.
Table of Contents
Foreword, Timothy P. Whalen and Larry T. Wiese
Preface, Leslie Rainer
Acknowledgements
Opening Dedication, Delbridge Honanie/Coochsiwukioma
Part 1: Archaeological Sites

Introduction, Giacomo Chiari
Abbasid Earth Architecture and Decoration at Samarra, Iraq, Alastair Northedge
The Taharqo Wall Painting Rescue at Qasr Ibrim, Egypt, David Singleton, Eric Miller, and Pamela Rose
Archaeological Site Conservation at Mesa Verde National Park, David Singleton, Eric Miller, and Pamela Rose
Part I. Surface Finish Preservation: A Summary of Current Work for the Archaological Site Conservation Program of Mesa Verde National Park, Rebecca J. Carr
Part II. Surface Finishes, Decoration, and Social Organization at Cliff Palace, Mesa Verde National Park, Larry V. Nordby

Part 2: Museum Practice

Introduction, Susan Thomas
Out of Their Native Earth: The History of Excavation and Conservation of Ancient Hopi Murals from Awatovi and Kawaika-a, Angelyn Bass Rivera, Leslie Rainer, and Lydia Vagts
Paradise: To Intervene or Not? A Review of Some Past Conservation Approaches for the Treatment of Clay-Based Chinese Wall Paintings and a Set of Seventeenth-Century Chinese Gate Panels, Kathleen M. Garland and Joe C. Rogers
The Nebamun Wall Paintings of the British Museum, Eric Miller

Part 3: Historic Buildings

Introduction, Anthony Crosby
Theory into Practice: Establishing Compatibility in Earth-Based Repair Materials, Lisa Shekede and Stephen Rickerby
Choice of Materials for the Conservation of Wall Paintings on Earth Supports in China, Jun Zheng
The Preservation of Earth Wall Surface Finishes in Historic Buildings of Northern Nigeria: A Case Study of Babban Gwani, Bauchi, Nigeria, Ishanlosen Odiaua

Part 4: Living Traditions

Introduction, George Abungu
Change and Continuity in Ndebele Earthen Architecture: Toward a Model for Conservation of Meaning in Architectural Decoration, Karel A. Bakker and Chris J. van Vuuren
Asante Shrines, Ghana: Revival of the Bas-Relief Decoration Techniques, Sébastien Moriset
Community Building and Continuity of Tradition: The Decoration of Mud-Brick Surfaces in the Hadhramaut Region of Yemen, Pamela Jerome
Conservation of Our Lady of Seven Sorrows Cathedral and Safeguarding the Tradition of Decoration in the Nakani Women, Pamela Jerome
Part I. Preservation of the Nankani Tradition of Wall Decoration, Gisèle Taxil
Part II. Analytical Research on Nankani Polychrome Decoration, Ann Bourgès

Closing Dedication, Michael Kabotie/Lomawywesa
Summary Discussion, Angelyn Bass Riveria, Claudia Cancino, Rebecca J. Carr, Kecia Fong, Mary Hardy, and Leslie Rainer
Conclusion, Angelyn Bass Rivera
Bibliography
List of Colloquium Participants
Contributors
About the Authors
George H. Okello Abungu is a Cambridge-trained archaeologist, chairman of the Kanya Cultural Center, and CEO of Okello Abungu Heritage Consultants.

Karel Anthonie Bakker serves on the executive committee of ICOMOS South Africa and the ICOMOS CIF. He is associate professor in the department of architecture at the University of Pretoria.

Angelyn Bass Rivera is a conservator with the National Park Service, specializing in the conservation of architectural finishes and management of archaeological sites.

Ann Bourgès is a research scientist for the Centre National de la Recherche Scientifique (CNRS) at the Institut des Sciences Appliquées (INSA) lab's metallurgy physics and material physics group in Lyon, France.

Claudia Cancino is an associate project specialist at the Getty Conservation Institute where she mainly works on the Earthen Architecture Initiative.

Rebecca Carr, currently on staff at Casa Grande Ruins National monument in Arizona, holds a BA from the University of Delaware with dual majors in anthropology and photography.

Giacomo Chiari is chief scientist at the Getty Conservation Institute. He has developed a method for dating mural paintings based on magnetic preferential orientation of hematite.

Anthony Crosby is an architectural conservator in private practice, formerly with the National Park Service, working in the protection of cultural properties in the United States and internationally.

Kecia Fong is a project specialist for Built Heritage Education and Training at the Getty Conservation Institute.

Kathleen M. Garland was senior sculpture conservator for the National Trust for Great Britain. She established the Objects Conservation Lab at the Nelson-Atkins Museum of Art, where she is presently working on the Chinese sculpture collection.

Mary Hardy is a senior project specialist in Field Projects at the Getty Conservation Institute, where she manages Project TERRA, a collaborative initiative of the GCI, CRATerre, and ICCROM for the study and conservation of earthen architecture.

Delbridge Honanie/Coochsiwukioma (Falling White Snow) is a Hopi painter, sculpture, kachina carver, and teacher.

Pamela Jerome is director of preservation and senior associate with Wank Adams Slavin Associates LLP, a New York-based architecture and engineering firm.

Michael Kabotie/Lomawywesa (Walking in Harmony) was a founding member of Artist Hopid, a group of five painters, carvers, and song-poets now referred to as the modernist Indian arts movement.

Eric Miller did postgraduate training in conserving sculpture and church monuments at Croydon Art School. He joined the Stone Section (later the Stone, Wall Paintings, and Mosaics Section) of the Department of Conservation of the British Museum in 1979.

Sébastien Moriset, an architect specializing in earthen architecture, has worked since 1993 at CRATerre-EAG, the International Centre for Earth Construction at the School of Architecture, University of Grenoble.

Larry Nordby is currently the field director of the Archaeological Site Conservation Program at Mesa Verde National Park.

Alastair Northedge is an historical archaeologist and professor of Isalmic art and archaology at the Université de Paris.

Ishanlosen Odiaua is an architect and teacher in the architecture program of the Adubakar Tafawa Balewa University, Bauchi, Nigeria.

Leslie Rainer is a senior project specialist in Field Projects at the GCI.

Stephen Rickerby received his MA in art history before undertaking the Courtauld Institute of Art/Getty Conservation Institute postgraduate diploma in the conservation of wall paintings.

Joe C. Rogers has worked in paintings conservation and objects conservation at the Nelson-Atkins Museum of Art.

Pamela Rose is director of excavations at Qasr Ibrim on behalf of the Egypt Exploration Society.

Lisa Shekede works in private practice in the United Kingdom and Malta, co-supervises the fieldwork programs of the Courtauld Institute master's degree students, and is a Getty Conservation Institute consultant on the Cave 85 project at the Mogao Grottoes, Dunhuang, China.

David Singleton has worked in the Stone, Wall Paintings, and Mosaics Conservation Section and the Organic Materials Conservation Section at the British Museum. In 2000 he moved to Bristol Museums and Art Gallery, where he works in preventative conservation.

Gisèle Taxil, an independent specialist for CRATerre-EAG, is currently working on the preservation of archaeological heritage built and decorated with gypsum in the southern Alps.

Susan Thomas is curator of the Anasazi Heritage Center (AHC) where she is responsible for the protection and management of all collections and for supervising museum specialists within the curation program and interns and contractors working on collection data entry.

Lydia Vagts is a paintings conservator in private practice in the Boston area. She is also the conservator of the mural paintings in the public art collection of the City of Cambridge, Massachusetts.

Chris J. van Vuuren holds a diploma in museum science and a Ph.D. in anthropology from the University of Pretoria. He designed the Ndebele Open Air Museum in Middleburg, of which he was the first curator.

Jun Zheng has carried out extensive conservation projects and taught in various training courses both inside and outside China, and has served on the boards of the Expert Committee of Science and Technology in Conservation and the Consultation Board for Architectural Conservation of the State Administration of Cultural Heritage in China.