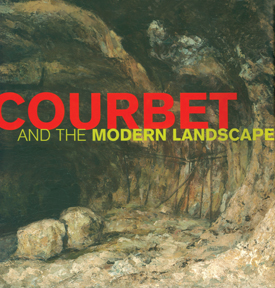 EXHIBITION CATALOGUE
Courbet and the Modern Landscape
Mary Morton and Charlotte Eyerman, with an essay by Dominique de Font-Réaulx
2006
152 pages
PDF file size: 18.0 MB
Description
While the large-scale figural works of Gustave Courbet's early to mid-career—pictures such as Burial at Ornans, The Stonebreakers, and The Studio of the Painter—are of signal importance to the history of Western art, it is in the genre of landscape that the artist laid the groundwork for a vital current of Modernist painting. A young turk from the provinces who made his mark in Paris, he promoted his image as a gregarious outsider, passionate, physically robust, and profoundly ambitious. Drawing inspiration from natural motifs, Courbet reset the course of French painting to embrace immediacy, vitality, and painterly self-expression.

Courbet and the Modern Landscape accompanies the first major museum exhibition to address the artist's extraordinary achievement in the genre of landscape painting. The book illustrates a highly selective group of landscapes from 1855 to 1877, most of them from the 1860s, when Courbet discovered in the countryside of his native Franche-Comté and on the shores of the Normandy coast a consistently rich source of visual stimulation. Many of the paintings—from collections in Belgium, France, Germany, Holland, Japan, Switzerland, the United Kingdom, and the United States—will be new to general readers of art history, and their juxtaposition will be a revelation to both experts and amateurs alike.
Table of Contents
Foreword
William M. Griswold, Peter C. Marzio, and Gary Vikan
Acknowledgments
Mary Morton and Charlotte Eyerman
Lenders to the Exhibition
To Create a Living Art: Rethinking Courbet's Landscape Painting
Mary Morton
Courbet's Legacy in the Twentieth Century
Charlotte Eyerman
Reproducing Reality: Landscape Photography of the 1850s and 1860s in Relation to the Paintings of Gustave Courbet
Dominique de Font-Réaulx, translated by Teresa Lavender Fagan
Plates

Cliffs and Valleys
Forests and Streams
Rocks and Grottoes
Snowscapes
Seascapes
Switzerland

Bibliography
Checklist
Authors
Index
About the Authors
Mary Morton is associate curator in the Department of Paintings at the J. Paul Getty Museum, Los Angeles.

Charlotte Eyerman is assistant curator in the Department of Paintings at the J. Paul Getty Museum, Los Angeles.

Dominique de Font-Réaulx is curator of photography at the Musée d'Orsay, Paris, and professor of nineteenth-century art history at the École du Louvre, Paris.