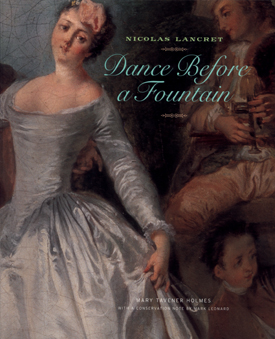 GETTY COLLECTIONS
Nicolas Lancret: Dance Before a Fountain
Mary Tavener Holmes
Conservation note by Mark Leonard
2006
136 pages
PDF file size: 9.91 MB
Description
In a garden glade before a grand fountain, surrounded by a musical party, an elegant woman in a lustrous white gown dances as part of a foursome, raising her eyes to the viewer as if extending an invitation to The Dance. This is the enticing scene in the Getty Museum's painting Dance Before a Fountain by Nicolas Lancret (1690–1743), an excellent example of the fête galante, a genre that was created and reached the peak of its popularity in France during the first half of the eighteenth century. Lancret was a master of this genre and a revered painter in his own time, rivaling his contemporaries Antoine Watteau and François Boucher. Mary Tavener Holmes's lively, engrossing text uses this painting as a springboard to reveal a remarkable amount about the painter, his mode of painting, Paris at the time this work was made, eighteenth-century dance, and the world of art patronage and collecting in France and elsewhere in the eighteenth and nineteenth centuries.

Nicolas Lancret: Dance Before a Fountain is part of the Getty Museum Studies on Art series, which is designed to introduce individual artworks or small groups of related works to a broad public with an interest in the history of art. Each monograph is written by a leading scholar and features a close discussion of its subject as well as a detailed analysis of the broader historical and cultural context in which the work was created.
Table of Contents
Introduction
The Painting
The Fête Galante
The Artist
The Exposition of Young Painters
Lancret's Paris
The Setting of the Painting
The Dance and the Dancers
The Variant
The Provenance
A Note on the Study and Treatment of Nicolas Lancret's Dance Before a Fountain, by Mark Leonard
Notes
Index
Acknowledgments
About the Authors
Mary Tavener Holmes is an independent scholar living in New York who specializes in French eighteenth-century paintings and drawings. She is the author of numerous publications, including A Magic Mirror: The Portrait in France, 1700–1900, with George Shackleford, and Nicolas Lancret, 1690–1743. At present she is working, together with Christoph Vogtherr, on the catalogue of French paintings in the collection of Frederick the Great of Prussia.

Mark Leonard is conservator of paintings at the J. Paul Getty Museum and the co-editor of Issues in the Conservation of Paintings, published in 2005 by the Getty Conservation Institute.