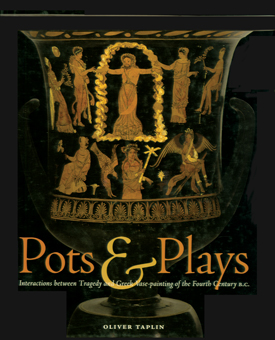 Pots & Plays: Interactions Between Tragedy and Greek Vase-painting of the Fourth Century B.C.
Oliver Taplin
2007
320 pages
PDF file size: 119 MB
Description
Although Greek tragedy usually generates greater popularity and interest than comedy, past studies of the depiction on ceramic vases of theater scenes have mostly concentrated on comedies. A significant proportion of the vases with depictions of tragedy was first published only in the last twenty-five years. There has been no sustained attempt to discuss these exciting additions in relation to tragedy, nor to reconsider the cultural context in the light of these discoveries.

Oliver Taplin here sets out to examine the previously understudied tragic scenes. Through detailed scrutiny of some 109 vases and vase fragments with depictions of Greek tragedies, he is able to identify plays and scenes by the great playwrights Aeschylus, Sophocles, and Euripides. Some scenes can with great certainty be identified with surviving tragedies, while the author more tentatively suggests that others may depict scenes from tragedies that are now lost or survive only as fragments.

Despite the uncertainties of many identifications, Taplin demonstrates that some Greek vase-paintings are significantly related to tragedies, and that the two art forms throw light on each other. Appreciation of this interrelationship enhances the quality and power of both drama and vase-painting.
Table of Contents
Preface & Acknowledgments
Map
Note on References
Part 1: Setting the Scenes
Part 2: The Pots

Chapter 1: Vases that may be related to Aeschylus
Chapter 2: Vases that may be related to Sophocles
Chapter 3: Vases that may be related to surviving plays by Euripides
Chapter 4: Vases that may be related to fragmentary plays by Euripides
Chapter 5: Vases that may be related to otherwise unknown tragedies

Vase Concordance
Notes
Glossary
Bibliography
Photo Credits
Index
About the Author
Press Reviews and Awards
"This well-illustrated book will now become the starting place for all those interested in the intersection of Greek tragedy and Greek vase-painting." —John H. Oakley, Andrew W. Mellon Professor, American School of Classical Studies at Athens
"In this lavish and learned book, Oliver Taplin presents more than a hundred vases that can be associated with the three great Athenian tragedians." —Alan Shapiro, W. H. Collins Vickers Professor of Archaeology, The Johns Hopkins University
"Oliver Taplin is not only one of the best readers and interpreters of Greek tragedy but he has also acquired a sharp eye and an exciting way of looking at Greek vases." —Prof. François Lissarrague, Centre Louis Gernet, Paris
"Replaces and surpasses all previous illustrated studies of the relationship between dramatic productions and vases portraying scenes from plays." —David Sider, Professor of Classics, New York University