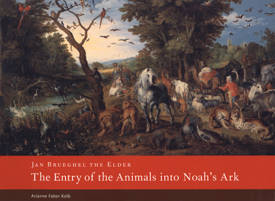 GETTY COLLECTIONS
Jan Brueghel the Elder: The Entry of the Animals into Noah's Ark
Arianne Faber Kolb
2005
104 pages
PDF file size: 12.2 MB
Description
At the dawn of the modern era in Europe, there was a keen interest in the precise rendering of the natural world, as evidenced by the landscapes and still lifes of the great Flemish artist Jan Brueghel the Elder. Born in Brussels and trained by his grandmother, he was called "Velvet Brueghel" for his skill at painting rich and delicate textures.

This monograph takes an interdisciplinary approach to the study of Brueghel's fascinating paradise landscape, exploring Renaissance zoology, religious views on nature, and the culture of collecting and cataloguing animals and natural specimens. It is brilliantly illustrated with paintings of landscapes and animals by artists such as Albrecht Dürer, Peter Paul Rubens, and Lucas Cranach the Elder as well as by Brueghel himself. It presents an overview of the tradition of this type of painting and discusses both the cultural context and the artist's background, crucial to understanding Brueghel's approach to nature.

Jan Brueghel the Elder: The Entry of the Animals into Noah's Ark is part of the Getty Museum Studies on Art series, which is designed to introduce individual artworks or small groups of related works to a broad public with an interest in the history of art.

Each monograph is written by a leading scholar and features a close discussion of its subject as well as a detailed analysis of the broader historical and cultural context in which the work was created.
Table of Contents
The Painted Paradise
The Descriptive Process: Brueghel's Representation of Animals
A Pictorial Catalogue of Species: The Artist as Naturalist
Brueghel's Artistic Background: The Tradition of Animal and Landscape Painting
The Courtly Context
The Legacy of The Entry of the Animals into Noah's Ark
Notes
Index
Acknowledgments
About the Authors
Arianne Faber Kolb, Ph.D., resides in Berkeley and is codirector of the Mendoza Research Project. She is a former member of the curatorial staff in the Getty Museum's Paintings Department, was visiting professor at the University of California, Santa Cruz, and was a researcher in the Paintings Department at the Metropolitan Museum of Art, New York. Her other published work includes articles on Joachim Patinir and the Earl of Arundel's prints and drawings collection.