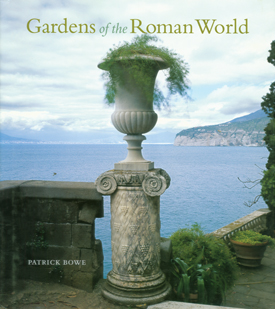 Gardens of the Roman World
Patrick Bowe
2004
176 pages
PDF file size: 135 MB
Description
Romans loved their gardens, whether they were the grand gardens of imperial country estates or the small private spaces tucked behind city houses. They treasured gardens both as places for relaxation and as plots to grow ornamental plants as well as fruits and vegetables. The soothing sound of bubbling fountains often added further to the pleasures of life in the garden. Romans constructed gardens in every corner of their empire, from Britain to North Africa and from Portugal to Asia Minor. Long after their empire collapsed, the gardens they had so carefully planted continued to exert influence in the farflung corners of their former world.

This book describes the variety of Roman gardens throughout the empire, from the humblest to the most lavish, including such well-known places as Hadrian's Villa in Tivoli and the gardens of Pompeii and Herculaneum. The continued influence of Roman gardens is traced though Arabic, medieval, and Renaissance gardens to the present day. Many of the lavish illustrations were commissioned for this book.
Table of Contents
Map
The Roman Garden: An Introduction
From Imperial Palaces to Public Parks: The Roman Gardening World
Provincial Gardens: From The Eastern Empire to Britain
The Influence of Roman Gardens: From Byzantium to the Twentieth Century
List Of Plant Names
Photo Credits
Suggestions for Further Reading
Index
Acknowledgments
About the Authors
Patrick Bowe is the author or co-author of eight books on garden history, and he has contributed essays to many books and written numerous articles on the subject. He has led dozens of garden tours to Italy, Greece, and other Mediterranean countries. For seven years he was designer and consultant on the restoration and development of the garden at Sutton Place, England, once the home of J. Paul Getty.