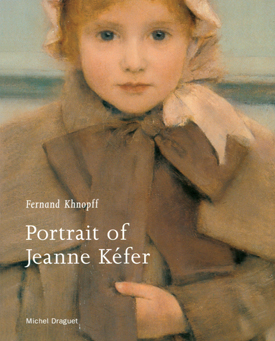 GETTY COLLECTIONS
Fernand Khnopff: Portrait of Jeanne Kefer
Michel Draguet
2004
110 pages
PDF file size: 7.57 MB
Description
The Belgian artist, illustrator, sculptor, and photographer Fernand Khnopff (1858–1921) became a popular society portraitist in the 1880s, using elements that had served him well as an avant-garde Symbolist painter: visual realism and a mood of silence, isolation, and reverie. As in the provocative, yet hauntingly beautiful, Portrait of Jeanne Kéfer that is the focus of this book, he frequently posed his models leaning against a closed door, flattening the space and resulting in a meditative, hermetically sealed image. Jeanne Kéfer was the daughter of a composer-friend of the artist, and Khnopff deftly captures the child's vulnerability to the outside world in the small gesture of her tiny thumb catching the edge of her bow.

The book places this painting in the historical context of Khnopff's times and social milieu and traces the advent of Symbolism as a literary and artistic movement. An analysis of the portrait itself is supported by a stunning array of related paintings, details, and technical photographs. Finally, the author uses Khnopff's portraits as a taking-off point for a broader discussion of Symbolist art.

Fernand Khnopff: Portrait of Jeanne Kéfer is part of the Getty Museum Studies on Art series, which is designed to introduce individual artworks or small groups of related works to a broad public with an interest in the history of art. Each monograph is written by a leading scholar and features a close discussion of its subject as well as a detailed analysis of the broader historical and cultural context in which the work was created.
Table of Contents
A Little Girl at the Center of the Avant-Garde
Producing a Portrait
The Portrait in Perspective
Notes
Acknowledgments
About the Authors
Michel Draguet is a professor of modern and contemporary art and director of the center for research on René Magritte at the Free University of Brussels. He is a widely published author, most recently of the important monograph James Ensor (1999) and Treasures of Art Nouveau: Through the Collections of Anne-Marie Gilbert (1999).