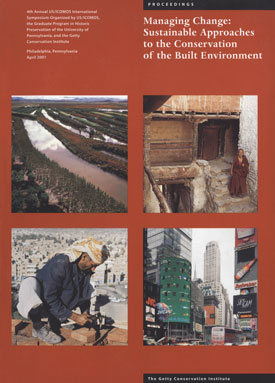 Managing Change: Sustainable Approaches to the Conservation of the Built Environment
Edited by Jeanne Marie Teutonico and Frank Matero
2003
224 pages
PDF file size: 31.9 MB
Description
Since the 1970s sustainability has evolved as a significant mode of thought in nearly every field of intellectual activity. In 1972 the United Nations Conference on Environment and Development in Rio de Janeiro brought the ideas of sustainability and development to the forefront of global politics. For historic resources—whether a cultural landscape, town, building, or work of art—which cannot be physically regenerated but only retained, modified, or lost, sustainability means ensuring the continuing contribution of heritage to the present through the thoughtful management of change responsive to the historic environment.

This volume brings together contributions from specialists in a wide range of fields—archaeology, architecture, conservation and management, city and regional planning, anthropology, biology, economics—who examine issues of sustainability as they relate to heritage conservation. The topics range in scale from individual buildings and sites to cities, landscapes, and other historic environments. The volume offers a global perspective and demonstrates that conservation must be a dynamic process, involving public participation, dialogue, consensus, and, ultimately, better stewardship. Through its dual focus on theory and case studies, the book also makes an important contribution to the larger debate on quality of life and the environment.
Table of Contents
Foreword, Robert C. Wilburn, Chairman, US/ICOMOS
Preface, Frank Matero
Part One: Thinking Sustainability: Concepts and Principles

Sustainability in the Conservation of the Built Environment: An Economist's Perspective, David Throsby
The Links between Historic Preservation and Sustainability: An Urbanist's Perspective, John C. Keene

Part Two: Framing Sustainability: The Promise and the Paradox of Conservation

Cultural Landscape, Sustainability, and Living with Change?, Graham Fairclough
Social Sustainability: People, History, and Values, Setha M. Low
Sustainability and the City, M. Christine Boyer
Sustainability and Buildings: Sustainable Solutions to Decay and Infestation in Timber, Brian Ridout

Part Three: Practicing Sustainability: Case Studies

Sustainable Approaches to the Conservation of Archaeological Sites

Toward a Sustainable Management Plan: The Case of Stonehenge and Avebury, David Batchelor
Sustainable Management for Archaeological Sites: The Case of Chan Chan, Peru, Carolina Castellanos

Sustainable Approaches to Building Conservation

Castles and Community in Cape Coast, Ghana, Gina Haney

Sustainable Approaches to Historic Cities

Sustainability and the Planning of Historic Cities: The Experience of the Aga Khan Trust for Culture, Francesco Siravo
Process over Product: Case Studies of Traditional Building Practices in Djenné, Mali, and San'a', Yemen, Trevor H. J. Marchand

Sustainability and Tradition

Tradition and Innovation in the Tibetan Diaspora, Ernesto Noriega
Agricultural Landscapes as World Heritage: Raised Field Agriculture in Bolivia and Peru, Clark L. Erickson

Summary of Proceedings, Jeanne Marie Teutonico
Contributors
About the Authors
Jeanne Marie Teutonico is Associate Director, Field Projects and Science, at the Getty Conservation Institute (GCI). She is an architectural conservator with an A.B. (Hons.) in art history from Princeton University and an M.Sc. in historic preservation from Columbia University, Graduate School of Architecture, Planning, and Preservation.

Frank Matero is Associate Professor of Architecture and Chair of the Graduate Program in Historic Preservation in the Graduate School of Fine Arts as well as Director and founder of the Architectural Conservation Laboratory at the University of Pennsylvania.