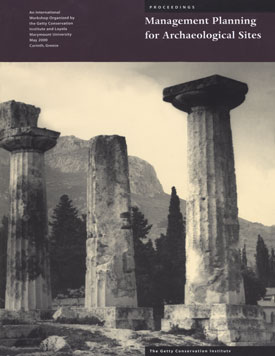 Management Planning for Archaeological Sites: An International Workshop Organized by the Getty Conservation Institute and Loyola Marymount University
Jeanne Marie Teutonico and Gaetano Palumbo
2002
96 pages
PDF file size: 34.2 MB
Description
Archaeological sites around the world are threatened by forces including population growth, development, urbanization, pollution, tourism, vandalism, and looting. Site management planning is emerging as a critical element not only for the conservation of this heritage, but also to address issues such as tourism and sustainable development.

This book reports on the proceedings of a workshop held in Greece near the ancient site of Corinth, where an international group of professionals gathered to discuss challenges faced by archaeological sites in the Mediterranean and to examine management planning methods that might generate effective conservation strategies.

Part One contains background papers addressing threats to the archaeological heritage, the concept of heritage values, and a methodology for the conservation and management of archaeological sites. Part Two features case studies where site management plans have been developed and implemented, or where their use is under discussion. Cases include Hadrian's Wall, England, and Chan Chan, Peru; Masada, Israel; Petra, Jordan; and Corinth, Greece. This book will be of interest to architects, archaeologists, site managers and all those charged with the conservation and management of the archaeological heritage.
Table of Contents
Foreword, Timothy P. Whalen
Preface, Jeanne Marie Teutonico and William Fulco
Part One: Background Papers

Threats and Challenges to the Archaeological Heritage in the Mediterranean, Gaetano Palumbo
Heritage Values and Challenges of Conservation Planning, Randall Mason and Erica Avrami
Planning for Conservation and Management of Archaeological Sites: A Values-Based Approach, Martha Demas

Part Two: Case Studies

Introduction, Jeanne Marie Teutonico
Experiences from Europe and Latin America, Jeanne Marie Teutonico
Hadrian's Wall, United Kingdom, Christopher Young
Chan Chan, Peru, Carolina Castellanos
Three Sites in the Region

Masada, Israel, Esti Ben Haim
Petra, Jordan, Aysar Akrawi
Corinth, Greece, Guy Sanders

Summary of Discussions, Jeanne Marie Teutonico and Gaetano Palumbo
Annotated Bibliography, Martha Demas
List of Participants
Author Biographies
About the Authors
Jeanne Marie Teutonico is associate director of the Getty Conservation Institute.

Gaetano Palumbo is senior lecturer at the Institute of Archaeology, University College London.