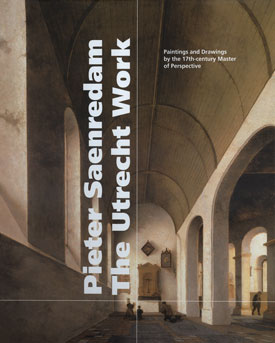 Exhibition Catalogue
Pieter Saenredam, The Utrecht Work: Paintings and Drawings by the 17th-century Master of Perspective
Edited by Liesbeth M. Helmus
2002
304 pages
PDF file size: 61.8 MB
Description
Pieter Saenredam (1597–1665) was one of the magical painters of 17th-century Holland, a time known as the Golden Age of Dutch Art. He spent his career immortalizing the churches of Holland in drawings and paintings. Working through a series of perspective drawings to the finished painting, he made innumerable fine adjustments to architectural details to create what may be justly called spaces of wondrous perfection of proportion and luminosity.
Pieter Saenredam, The Utrecht Work is published to coincide with an exhibition of Saenredam's drawings and paintings, originally held at the Centraal Museum, Utrecht, and on view from April 16 through July 7, 2002 at the Getty Museum. This elegant volume brings together more than sixty drawings and paintings depicting the beautiful and historically venerable churches of the Dutch city of Utrecht.
Table of Contents
Foreword, Sjarel Ex
Foreword, Deborah Gribbon
Introduction, Liesbeth M. Helmus
Pieter Saenredam's Views of Utrecht Churches and the Question of Their Reliability, Arie de Groot
Pieter Saenredam as a Draughtsman, Michiel C. Plomp
Space, Light, and Stillness: A Description of Saenredam's Painting Technique, Geraldine van Heemstra
Catalogue, Arie de Groot, Liesbeth M. Helmus, and Michiel C. Plomp
Literature
Supplement: Watermarks in the Paper of Pieter Saenredam's Drawings
Index
Photo Credits
About the Authors
Liesbeth M. Helmus is curator of fine arts prior to 1850, Centraal Museum, Utrecht.
Arie de Groot is an architectural historian.
Geraldine van Heemstra is paintings conservator, Royal Collection Trust, London.
Michiel C. Plomp is associate curator of drawings and prints, Metropolitan Museum of Art, New York.