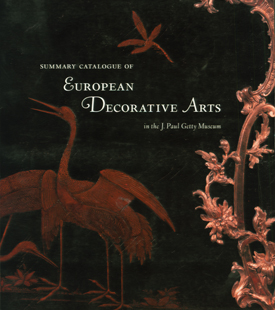 GETTY COLLECTIONS
Summary Catalogue of European Decorative Arts in the J. Paul Getty Museum
Gillian Wilson and Catherine Hess
2002
320 pages
PDF file size: 26.7 MB
Description
J. Paul Getty had a passion for the exquisitely made furniture and decorative objects of eighteenth-century France, which he began collecting in the 1930s. Gillian Wilson, curator of decorative arts since 1971, has broadened and strengthened the collection, adding Boulle furniture, mounted oriental porcelain, tapestries, clocks, ceramics, and more. In the 1980s and 1990s the Museum continued to enlarge its decorative arts holdings, creating a European sculpture department in 1984 and adding glass, maiolica, goldsmiths' work, pietre dure, and furniture from Italy and Northern Europe.

This book is a revised and expanded edition of Decorative Arts: An Illustrated Summary Catalogue of the Collection of the J. Paul Getty Museum (1993). In addition to more than forty recent acquisitions—among these four wall sconces from Versailles that once belonged to Marie Antoinette and an elaborate upholstered bed from the collection of Karl Lagerfeld—it includes the results of years of research. Designed for scholars, students, and devotees of the decorative arts, this volume provides a comprehensive look at the Getty's fine collection.
Table of Contents
Foreword
Preface and Acknowledgments
Bibliographical Abbreviations
Part I
Part I is organized first by country of origin (France), then by type of object.
French Decorative Arts

Furniture
Architectural Woodwork and Fixtures
Clocks and Barometers
Scientific Instruments
Metalwork
Ceramics
Mounted Oriental Porcelain
Mounted Hardstones and Glass
Textiles
Carpets and Screens
Tapestries
Decorative Drawings

Part II
Part II is organized first by type of object, then alphabetically by country of origin.
Architectural Woodwork
Ceramics

Austrian
Chinese
English
German
Italian
Japanese
Spanish

Clocks
Furniture

English
German
Italian
Netherlandish
South Indian

Glass

Austrian
Bohemian
French
German
Italian
Netherlandish

Hardstones
Ivory
Metalwork

English
German
Italian
Netherlandish
Spanish

Mosaics
Scagliola
Textiles and Carpets
Glossary of Woods
Indexes

Index of Makers
Index of Previous Owners

Concordance
About the Authors
Gillian Wilson is curator of decorative arts at the J. Paul Getty Museum.

Catherine Hess is associate curator of sculpture and works of art at the Getty Museum.