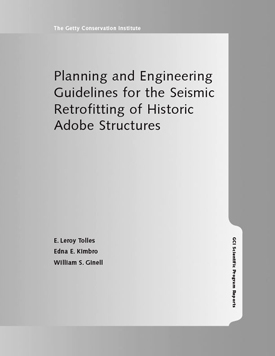 Planning and Engineering Guidelines for the Seismic Retrofitting of Historic Adobe Structures
E. Leroy Tolles, Edna E. Kimbro, and William S. Ginell
2002
160 pages
PDF file size: 4.3 MB
Description
A companion volume to Seismic Stabilization of Historic Adobe Structures: Final Report of the Getty Seismic Adobe Project, this book offers guidance for planners, architects, and engineers in the retrofitting of historic and culturally significant adobe structures. The text outlines the fundamental conservation principles and preparatory steps in the design of a plan. Additionally, it describes the types of earthquake damage typically encountered in historic adobe buildings and presents detailed technical procedures for applying the appropriate retrofit measures. The book also includes a directory of pertinent government agencies, possible funding sources, an abstract of the California seismic safety code, an article describing historic adobe, and excerpts from the Secretary of the Interior's Standards for the Treatment of Historic Properties.

The GCI Scientific Program Reports series presents current research being conducted under the auspices of the Getty Conservation Institute.
Table of Contents
Foreword
Acknowledgments
Introduction
Chapter 1: Conservation Issues and Principles

The Significance of Adobe Architecture in California
Principles of Architectural Conservation
Seismic Retrofitting Issues
Life-Safety Issues
Conservation Issues
Retrofitting Objectives and Priorities

Chapter 2: Acquisition of Essential Information

The Historic Structure Report
Values Identification
Historic Structure Report Formats
Minimum Information Requirements
Summary

Chapter 3: Practical Application: Retrofit Planning and Funding

Preliminary Condition / Structural Assessments
Choosing the Appropriate Preservation Treatment

Chapter 4: Overview of Engineering Design

Principles of Seismic Design
The Unique Character of Adobe Buildings
Stability versus Strength
Performance-Based Design
Current Building Codes and Design Standards

Chapter 5: Characterization of Earthquake Damage in Historic Adobe Buildings

Damage Levels in Aseismic Design
Evaluating the Severity of Earthquake Damage
Effect of Preexisting Conditions

Chapter 6: Getty Seismic Adobe Project Results

The Retrofit Measures Researched and Tested
Research Results Summary

Chapter 7: The Design Process

Designing for Earthquake Severity
Global Design Issues
Crack Prediction
Retrofit Measures

Chapter 8: Design Implementation and Retrofit Tools

Standard Lateral Design Recommendations
Wall Design
Cables, Straps, and Center-Core Rods
Case Study 1: Rancho Camulos
Case Study 2: Casa de la Torre
Summary of Retrofit Considerations for Adobe Buildings with Walls of Different Slenderness Ratios

Chapter 9: Conclusions
Appendix A: Getty Seismic Adobe Project
Appendix B: The Unreinforced Masonry Building Law, SB547
Appendix C: California Building Code and Seismic Safety Resources
Appendix D: Historic Structure Report Resources
Appendix E: Sources of Information and Assistance
Appendix F: Federal Standards for Treatment of Historic Properties
References
Additional Reading
Glossary
About the Authors
Cumulative Index to the Getty Seismic Adobe Project Volumes
About the Authors
William S. Ginell is a materials scientist with extensive experience in industry. In 1943, after graduating from the Polytechnic Institute of Brooklyn with his bachelor's degree in chemistry, he became part of the secret research team at Columbia University working to develop the atomic bomb. After the war, he went on to receive his Ph.D. in physical chemistry from the University of Wisconsin, spent nine years at the Brookhaven National Laboratory on Long Island, New York, followed by twenty-six years working for aerospace firms in California. In 1984 he joined the Getty Conservation Institute as head of Materials Science. He is currently senior conservation research scientist at the GCI and was project director of the Getty Seismic Adobe Project.

Edna E. Kimbro is an architectural conservator and historian, specializing in research and preservation of Spanish and Mexican colonial architecture and material culture of early California. She studied architectural history at the University of California, Santa Cruz. Through the 1980s she was involved in restoration of the Santa Cruz Mission Adobe for California State Parks. In 1989 she attended ICCROM in Rome and studied seismic protection of historic adobe buildings. In 1990 she became preservation specialist for the Getty Seismic Adobe Project. Currently, she is the Monterey (California) District historian for California State Parks and prepares historic structure reports for adobe buildings.

E. Leroy Tolles has worked on the seismic design, testing, and retrofit of adobe buildings since the early 1980s, specializing in the structural design and construction of earthen and wood buildings. He received his doctorate from Stanford University in 1989, where his work focused on the seismic design and testing of adobe houses in developing countries. He has led multidisciplinary teams to review earthquake damage after the 1985 earthquake in Mexico, the 1989 Loma Prieta earthquake, and the 1994 Northridge earthquake. He was principal investigator for the Getty Conservation Institute's Getty Seismic Adobe Project and has coauthored numerous publications on seismic engineering. He is principal for ELT & Associates, an engineering and architecture firm in Northern California.