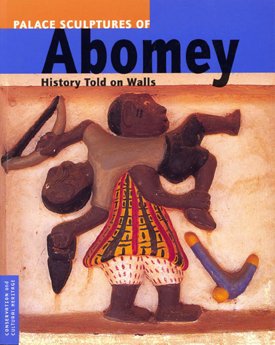 Palace Sculptures of Abomey: History Told on Walls
Francesca Piqué and Leslie H. Rainer
1999
120 pages
PDF file size: 10.9 MB
Description
The Republic of Benin in West Africa is home to more than forty ethnic groups, the largest of which is the Fon. In the early seventeenth century, the Fon established a society ruled by a dynasty of kings, who over the years forged the powerful kingdom of Dahomey. In their capital city of Abomey, they built a remarkable complex of palaces that became the center of the kingdom's political, social, and religious life. The palace walls were decorated with colorful low-relief sculptures, or bas-reliefs, which recount legends and battles and glorify the history of the dynasty's reign. Over the centuries, these visual stories have represented and perpetuated the history and myths of the Fon people.

The Palace Sculptures of Abomey combines lavish color photographs of the bas-reliefs with a lively history of the Dahomey kingdom, complemented by period drawings, rare historical photographs, and colorful textile art. The book provides a vivid portrait of these exceptional narrative sculptures and the equally remarkable people who crafted them. Also included are a reading of the stories on the walls and details of the four-year collaboration between the Benin Ministry of Culture and Communications and the Getty Conservation Institute to conserve the bas-reliefs of Abomey. Final chapters describe the Historic Museum of Abomey, now housed in the palace complex, and discuss the continuing popularity of bas-reliefs in contemporary West African art.
Table of Contents
Introduction
The Kingdom of Dahomey
Warrior Kings
The Abomey Royal Palaces
Bas-Relief Art
Reading the Walls
Conserving the Bas-Reliefs
The Historic Museum of Abomey
A Living Tradition
Suggested Reading
Acknowledgments
About the Authors
Francesca Piqué is a conservation specialist at the Getty Conservation Institute.

Leslie Rainer is a conservation consultant.