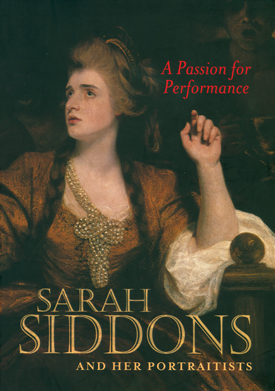 EXHIBITION CATALOGUE
A Passion for Performance: Sarah Siddons and Her Portraitists
Edited by Robyn Asleson
Essays by Robyn Asleson, Shelley Bennett and Mark Leonard, and Shearer West
1999
144 pages
PDF file size: 14.8 MB
Description
A Passion for Performance: Sarah Siddons and Her Portraitists brings together three engaging essays that re-create the eventful life, both on and off the stage, of the great eighteenth-century actress Sarah Siddons. Siddons was renowned for her bravura performances in tragic roles, and her fame was enhanced by the many portraits of her painted by the leading artists of the day. The greatest of these was Sir Joshua Reynolds's Sarah Siddons as the Tragic Muse, a painting now in the Huntington Art Collections and recently studied at the Getty Center. A Passion for Performance places this magnificent portrait within the context of Siddons's career as an actress and cultural icon.

The book includes a chronology of Siddons's life by volume editor Robyn Asleson.
Table of Contents
Foreword
Deborah Gribbon
A Sarah Siddons Chronology
Robyn Asleson
The Public and Private Roles of Sarah Siddons
Shearer West
"She Was Tragedy Personified": Crafting the Siddons Legend in Art and Life
Robyn Asleson
"A Sublime and Masterly Performance": The Making of Sir Joshua Reynolds's Sarah Siddons as the Tragic Muse
Shelley Bennett and Mark Leonard, with technical studies by Narayan Khandekar
Index
About the Authors
Robyn Asleson is research associate at the Huntington Library, Art Collections, and Botanical Gardens. Her most recent book is Albert Moore: The Analysis of Beauty.

Shelley Bennett is curator of British and European art at the Huntington and the author of Thomas Stothard: The Mechanisms of Art Patronage in England circa 1800.

Mark Leonard is conservator of paintings at the Getty Museum and coauthor of Looking at Paintings.

Shearer West is senior lecturer and head of the Department of History of Art at the University of Birmingham. She is the author of Image of the Actor: Verbal and Visual Representation in the Age of Garrick and Kemble.