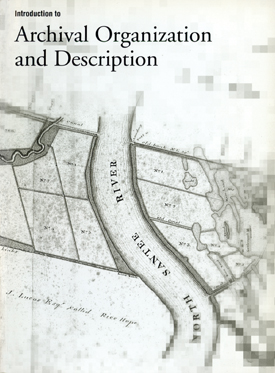 Introduction to Archival Organization and Description
Edited by Susanne R. Warren, with contributions by Michael J. Fox and Peter L. Wilkerson
1998
68 pages
PDF file size: 54.3 MB
Description
An archival collection is a unique body of information, created at a particular time by a particular organization or individual as a result of a particular activity. If the cultural record contained in an archive is to be accessible, the archivist must examine, organize, and describe each collection individually.

Introduction to Archival Organization and Description guides the novice to an understanding of the nature of archival information and documentation. Chapters cover topics such as the characteristics of archival materials, the gathering and analysis of information for archival description, and the implementation of descriptive tools in information systems.

The Introduction To series acquaints professionals and students with the complex issues and technologies in the production, management, and dissemination of cultural heritage information resources.
Table of Contents
Foreword
Introduction
Part I. Archival Principles, Archival Practices

Archival Documentation

What is Documentation?
Why Document?
What Does Archival Documentation Involve?

Archival Materials and Information

The Nature of Archival Information
Principles of Archival Documentation
Archival Materials: How Characteristics Shape Practices
Part II. Archival Analysis, Archival Description
Gathering and Analyzing Archival Information

Assembling Documentation
What Information Is Collected?

Archival Description

Description: Conveying Information to Users
Descriptive Tools
Archival Information Systems: Delivering the Goods

Standards for Archival Description

About Standards
Different Types of Information Standards

Descriptive Standards for Finding Aids

Descriptive Standards for Catalog Records
Descriptive Standards for Inventories/Registers
Part III. Putting It All Together: How an Archivist Works
Archival Processing

What Is Processing?
Gathering and Analyzing Information
Organization and Arrangement
Creating Descriptions in the Form of Catalog Records and Inventories/Registers
Part IV. What's Ahead in Description and Access
The Future
Tutorial: An over-the-shoulder view of an archivist at work
Glossary
Acronyms
Bibliography
Web Resources
About the Authors