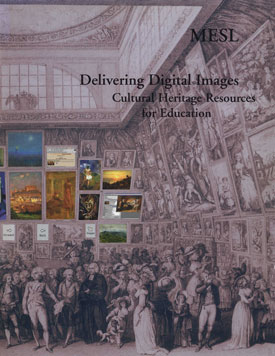 Delivering Digital Images: Cultural Heritage Resources for Education
Edited by Christie Stephenson and Patricia McClung
1998
212 pages
PDF file size: 21.5 MB
Description
This pioneering two-year project explored the legal, technical, and practical issues involved in using digital images of museum collections for educational purposes. The report includes essays by project participants for the fourteen museums and universities that participated in this project, and recommends terms and conditions for distributing digital museum images via the Internet and university campus networks.
Table of Contents
Foreword, Eleanor Fink
Preface, Kathleen McDonnell
Editor's Note and Acknowledgments, Christie Stephenson and Patricia McClung
Part I: Project Background and History

The Evolution of the MESL Project, Christie Stephenson

Part II: Legal and Administrative Issues

Project Background—Framing the Issues, Christie Stephenson
Establishing the Terms and Conditions for Educational Institutional Licensing of Museum Images: A Summary of Issues and Priorities, Mary Levering
Establishing the Terms an Conditions for Educational Institutional Licensing of Museum Images: A Framework for Museums and Universities, Mary Levering and Melissa Smith Levine

Part III: Content Selection

Introduction
Content Selection in the Museum Educational Site Licensing Project, Andrea Notman

Part IV: Technical Issues

Introduction
The MESL Data Dictionary and the Data Export Process, Robin Dowden
Digital Image Production Issues, Christie Stephenson
The MESL Distribution Process, Christie Stephenson and Clifford Lynch
MES Implementation at the Universities, Howard Besser

Part V: Use and Impact

Introduction
MESL Impact: Museum Perspective, Patricia McClung
MESL Impact: University Perspective, Patricia McClung
Findings of the Instructor/Student Survey, Beth Sandore
Findings of the MESL Casual User Survey, Geraldine Gay, Robert Rieger, and Amanda Sturgill

Part VI: Economic Issues

Introduction
The Costs of Digital Image Distribution: Theory, Methods, and Preliminary Results of the Mellon Study, Robert Yamashita

Part VII: Conclusion

Looking Ahead, Christie Stephenson and Patricia McClung

Part VIII: Appendices

Appendix A: Goals and Objectives
Appendix B: Cooperative Agreement
Appendix C: Data Dictionary
Appendix D: Chart of MESL Field Usage
Appendix E: Instructor/Student Surveys
Appendix F: Casual User Survey

About the Contributors
Project Team Members
Credits
Selected Bibliography
About the Authors
Christie Stephenson is Librarian for Digital Collections at the New York University Libraries.

Patricia McClung is a consultant to libraries and museums on digital initiatives and has served as manager of the MESL project since 1995.