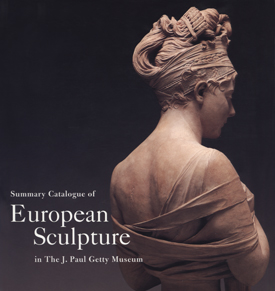 GETTY COLLECTIONS
Summary Catalogue of European Sculpture in the J. Paul Getty Museum
Introduction by Peter Fusco
1997
88 pages
PDF file size: 5.73 MB
Description
Although one of the newer collections in the Getty Museum, sculpture occupies an important place in the Museum's acquisition efforts. For the first time, the entire sculpture collection is catalogued in a book designed for scholars and students of sculpture. Reproductions of each piece are accompanied by text that identifies the sculptor, the medium, the dimensions, and the year the work was created.
Table of Contents
Foreword
John Walsh
Acknowledgments
Note to the Reader
Catalogue of Attributed Works
Catalogue of Unattributed Works
Subject Index
About the Authors
Peter Fusco is curator of sculpture and works of art at the J. Paul Getty Museum.