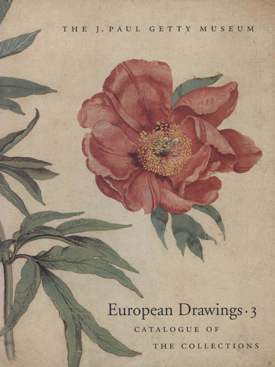 GETTY COLLECTIONS
European Drawings 3: Catalogue of the Collections
Nicholas Turner and Lee Hendrix, with Carol Plazzotta
1997
344 pages
PDF file size: 40.9 MB
Description
The Getty Museum's collection of drawings was begun in 1981 with the purchase of a Rembrandt nude; it has since become one of the world's most important repositories of European works from the fifteenth through the nineteenth century.

This third volume of the catalogue of the drawings collection reproduces and describes 132 works acquired by the J. Paul Getty Museum since 1992, including the incomparable Holy Family by Michelangelo. The text is organized first by national school, then by artist, with individual works arranged chronologically.
Table of Contents
Foreword, John Walsh
Preface and Acknowledgments, Nicholas Turner
Plates
Catalogue

Italian School (Nos. 1–59)
German and Swiss Schools (Nos. 60–75)
Dutch and Flemish Schools (Nos. 76–91)
French School (Nos. 92–101)
Spanish School (Nos. 102–19)

Bibliography
Indexes
Concordance
About the Authors
Nicholas Turner is curator of drawings and Lee Hendrix is associate curator of drawings at the J. Paul Getty Museum.

Carol Plazzotta is a special assistant in the department of prints and drawings at the British Museum.