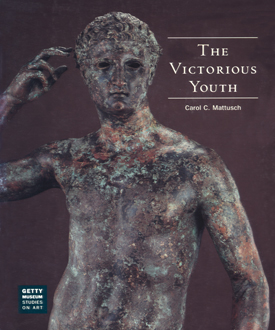 GETTY COLLECTIONS
The Victorious Youth
Carol C. Mattusch
1997
106 pages
PDF file size: 7.15 MB
Description
The paucity of life-size bronze statues from classical antiquity that have survived to the present day makes each one of them an object of special interest for the scholarly community and the public alike. For that reason there has been a tendency to see each one as unique, whereas in reality they are examples of many thousands of similar statues that in antiquity were erected in public and private places. Carol Mattusch prefers to see the extant statues as representatives of specific types—gods and heroes, athletes and philosophers, rulers and statesmen, or, as may be the case with the statue discussed in this volume, victorious athletes.

The Victorious Youth is part of the Getty Museum Studies on Art series, designed to introduce individual artworks or small groups of related works to a broad public with an interest in the history of art.

Each monograph is written by a leading scholar and features a close discussion of its subject as well as a detailed analysis of the broader historical and cultural context in which the work was created.
Table of Contents
Introduction
Rescued from the Sea: Shipwrecks and Chance Finds
Statues for Civic Pride
Statues for Victors
Collectors in Antiquity
Collaborators: Artist and Craftsman
Modern Views of the Victorious Youth
Notes
Selected Bibliography
Appendix: Measurements
Acknowledgements
About the Authors
Carol C. Mattusch is professor of art history at George Mason University, Fairfax, Virginia. Among her publications is Classical Bronzes: The Art and Craft of Greek and Roman Statuary (1996). She recently organized the exhibition The Fire of Hephaistos: Large Classical Bronzes from North American Collections (1996) for which she also wrote and edited the catalogue.