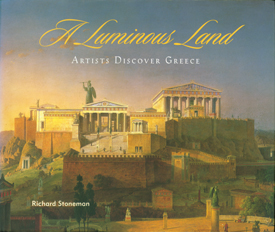 A Luminous Land: Artists Discover Greece
Richard Stoneman
1998
188 pages
PDF file size: 78.7 MB
Description
Over the centuries, many artists have been captivated by the unique light and landscape of Greece; from early cartographers to the impressionistic responses of the late nineteenth century, the Greek scene has continued to exert its fascination. This very personal anthology of depictions of Greece explores the changing attitude of travelers to Greece from medieval to modern times.

A number of the selections relate to the historic events surrounding the War of Independence, including Lord Byron's participation in it, which led to his death. Particular emphasis is given to the German painters of the 1830s and their pupils, who are comparatively little known in the English-speaking world.

Framed by a text describing the relationship of artists to Greece, these images evoke the many moods of the country. The book is enhanced by succinct comments on the illustrations, a biographical index of the artists featured, and an introduction that discusses the development of the painterly approach to Greece.
Table of Contents
Chronological Table
Map of Greece
Introduction: Seeing Greece
I. Athens
II. Attica and Aegina
III. The Peloponnese
IV. The Ionian Islands
V. Central, Western, and Northern Greece
VI. The Aegean Islands and Crete
Biographical Sketches of Artists
Bibliography
Index
Acknowledgments
About the Authors
Richard Stoneman was educated at Rugby School and Oxford University, where he read Greek Literature. He is the author of Land of Lost Gods: The Search for Classical Greece (London, 1987) and A Traveller's History of Turkey (New York, 1993). He has also compiled and edited many books on classical antiquity, including the companion volume to the present work, A Literary Companion to Travel in Greece, published by the J. Paul Getty Museum in 1994. He is senior editor at Routledge London and Honorary University Fellow at the University of Exeter.