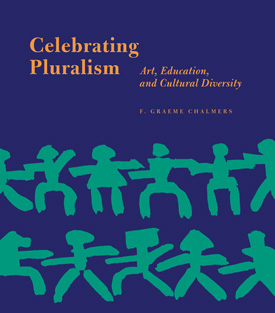 Celebrating Pluralism: Art, Education, and Cultural Diversity
F. Graeme Chalmers
1996
91 pages
PDF file size: 16.7 MB
Description
"Educational trends will change and research agendas will shift, but art teachers in public institutions will still need to educate all students for multicultural purposes," argues Chalmers in this fifth volume in the Occasional Papers series. Chalmers describes how art education programs promote cross-cultural understanding, recognize racial and cultural diversity, enhance self-esteem in students' cultural heritage, and address issues of ethnocentrism, stereotyping, discrimination, and racism. After providing the context for multicultural art education, Chalmers examines the implications for art education of the broad themes found in art across cultures. Using discipline-based art education as a framework, he suggests ways to design and implement a curriculum for multicultural art education that will help students find a place for art in their lives. Art educators will find Celebrating Pluralism invaluable in negotiating the approach to multicultural art education that makes the most sense to their students and their communities.
Table of Contents
List of Illustrations
Foreword
Acknowledgements
Cultural Diversity and Art Education
Dealing with Our Past: Ethno- and Egocentrism in the Art Curriculum
Why Do We Make Art? How Do We Use Art? What Is Art For?
Pluralism and the content of the Art Curriculum
Designing and implementing a Curriculum for Multicultural Art Education
Art Education and Cultural Diversity: A Summary
Notes
References
About the Authors
F. Graeme Chalmers is professor of art education at the University of British Columbia, Vancouver, Canada.