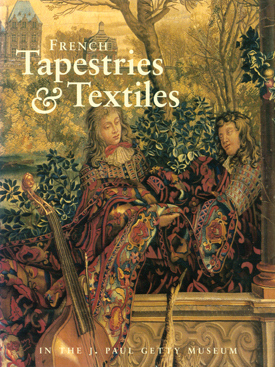 GETTY COLLECTIONS
French Tapestries and Textiles in the J. Paul Getty Museum
Charissa Bremer-David
1997
202 pages
PDF file size: 32.5 MB
Description
French Tapestries and Textiles is a survey of the Getty Museum's seventeenth- and eighteenth-century French textiles—one of the world's finest collections. Featuring twenty-five extraordinary tapestries woven at the Gobelins and Beauvais manufactories, the catalogue also highlights three carpets, two knotted-pile screens, and two sets of embroidered bed hangings, one of which is the only complete lit à la duchesse surviving from the period.

Among the magnificent textiles discussed in this lavish volume are the Emperor of China tapestry series, the whimsical Story of Don Quixote, and Boucher's cycle The Story of Psyche. A gatefold in the book opens to reveal a photograph of the stately twenty-nine-foot carpet commissioned for Louis XIV's Galerie du Bord de l'Eau at the Louvre, a piece never publicly displayed in this century.

Each entry includes a listing of artists and weavers, date and place of manufacture, and materials and techniques used, followed by a complete description and a condition statement. The accompanying commentary provides information on the literary, historical, and visual source of design imagery as well as the context of the textile's commission and production. In addition, each textile shown has a complete provenance, exhibition history, and bibliography.

For lovers of French decorative arts and connoisseurs of textiles, this book offers a study both of the art of tapestry- and textile-making and of the aesthetic tradition exemplified by these remarkable objects.
Table of Contents
Foreword
Acknowledgments
Introduction
Abbreviations
Gobelins Manufactory

Portière du Char de triomphe
Les Anciennes Indes: Le Cheval rayé
Les Maisons royales: Le Mois de décembre, Le Château de Monceaux
Chancellerie: Portière
Nouvelle Portière aux armes de France
Four Tapestries from L'Histoire de don Quichotte
Four Tapestries from Les Tentures de François Boucher

Beauvais Manufactory

Les Grotesques: L'Offrande à Bacchus
Six Tapestries from L'Histoire de Psyché
Les Amours des dieux: Arianne et Bacchus et Bacchus change en raisin

Savonnerie Manufactory

Carpet
Carpet for the Galerie du Bord de l'Eau, Palais du Louvre
Pair of Three-Panel Screens (Paravents)
Four-Panel Screen (Paravent)

Needlework Hangings

Pair of Embroidered Bed Hangings (Bonne-grâces)
Hangings for a Bed (Lit à la duchesse)

Index
About the Authors
Charissa Bremer-David is assistant curator in the Department of Decorative Arts at the Getty Museum and a coauthor of Decorative Arts: An Illustrated Summary Catalogue of the Collections of the J. Paul Getty Museum.