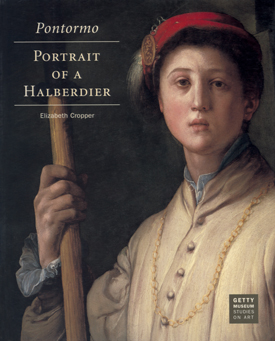 GETTY COLLECTIONS
Pontormo: Portrait of a Halberdier
Elizabeth Cropper
1997
138 pages
PDF file size: 8.85 MB
Description
Pontormo's Halberdier has long been controversial. How did scholars come to identify the sitter as Duke Cosimo de' Medici and why is this open to doubt? Who was Francesco Guardi? What was the siege of Florence, and could Pontormo have made this compelling portrait during that time of deprivation and political tumult? In a fascinating piece of historical detective work, Elizabeth Cropper investigates these questions and uncovers new evidence for interpretation. She also analyzes the portrait's relationship to other works by Pontormo, explores the importance for Pontormo of Donatello, Michelangelo, and Andrea del Sarto, and looks into Bronzino's connection with the portrait.

Pontormo: Portrait of a Halberdier is part of the Getty Museum Studies on Art series, which is designed to introduce individual artworks or small groups of related works to a broad public with an interest in the history of art.

Each monograph is written by a leading scholar and features a close discussion of its subject as well as a detailed analysis of the broader historical and cultural context in which the work was created.
Table of Contents
Introduction
A Portrait of Duke Cosimo When He Was Young?
A Portrait of Francesco Guardi?
Afterword
Notes
Bibliography
Genealogy of the Guardi Family
Acknowledgments
About the Authors
Elizabeth Cropper is professor of art history at John Hopkins University. She has also been Slade Professor of Art at Cambridge University and Andrew W. Mellon Professor at the Center for Advanced Study in the Visual Arts at the National Gallery in Washington, D.C. She recently coauthored, with Charles Dempsey, Nicolas Poussin: Friendship and the Love of Painting.
Press Reviews and Awards
"In taking on every significant issue attendant on our understanding of this painting, Cropper has produced an estimable book."
—College Art Association Reviews