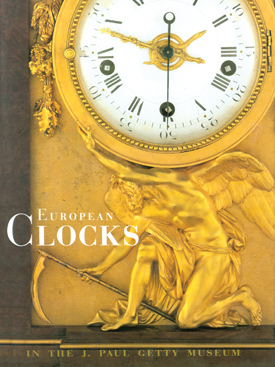 GETTY COLLECTIONS
European Clocks in the J. Paul Getty Museum
Gillian Wilson, David Harris Cohen, Jean Nérée Ronfort, Jean-Dominique Augarde and Peter Friess
1996
224 pages
PDF file size: 27.4 MB
Description
Among the finest examples of European craftsmanship are the clocks produced for the luxury trade in the eighteenth century. The J. Paul Getty Museum is fortunate to have in its decorative arts collection twenty clocks dating from around 1680 to 1798: eighteen produced in France and two in Germany. They demonstrate the extraordinary workmanship that went into both the design and execution of the cases and the intricate movements by which the clocks operated.

In this handsome volume, each clock is pictured and discussed in detail, and each movement diagrammed and described. In addition, biographies of the clockmakers and enamelers are included, as are indexes of the names of the makers, previous owners, and locations.
Table of Contents
Foreword
Preface and Acknowledgments
Abbreviations
Catalogue
Biographies
Glossary of Movement Terms
Index
About the Authors
Gillian Wilson is curator of decorative arts at the J. Paul Getty Museum.