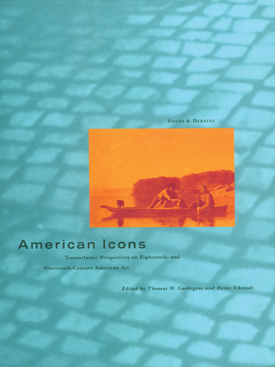 American Icons: Transatlantic Perspectives on Eighteenth- and Nineteenth-Century American Art
Edited by Thomas W. Gaehtgens and Heinz Ickstadt
1992
372 pages
PDF file size: 89.4 MB
Description
American Icons explores American self-definition through the creation of a national art. Like their writer counterparts, American artists of the eighteenth and nineteenth centuries yearned to create their art in terms of a uniquely American experience of history and nature. Paradoxically, however, when they insisted upon American originality and uniqueness, they could not but mediate these qualities through European conventions. European methods and motifs were, nonetheless, used differently in the social, economic, and communicative contexts of the New World. For American artists, Europe was an ensemble, not to say a warehouse, of traditions and styles from which they could choose according to their interests and preferences. Innovation was therefore not necessarily a matter of breaking new ground but a matter of how established means were used in new circumstances and for different purposes. The present essays explore the construction of an American sublime, of a mythology of the frontier, of a democratic style of common people and common objects, all expressed through the language of European art, while changing that language in the process of coining a new usage.

Los Angeles is a city on the Pacific Rim where things appear on edge, for they lack a permanent footing even while occupying a specific locale. The city's genius loci produce this dual vision of fixed place in a state of constant dislocation.

It is only appropriate for the edge-bound Getty Center to initiate a series of publications that aim to expose the historical study of artifacts to the oscillation of rigorous debate. Each of these books proceeds from a specific body of historical material, not because that material is in itself inherently imbued with controversy but because its exposure to different disciplinary approaches raises new questions of interpretation. In the realm of historical studies, issues often emerge at the intersection of the various perspectives scholars have constructed for the examination of their subjects. As their debate refracts and refocuses the material under scrutiny, it also invites reflection upon itself and thereby exposes the assumptions and tendencies of scholarship to no less assiduous criticism than it does the underpinnings of its subjects.

Volumes in the Issues & Debates series will result from symposia and lecture series, as well as from commissioned writings. Their scholarly editors are invited to frame highly focused essays with introductions, commentaries and/or sources, documents, and illustrations that further contribute to their usefulness.
Table of Contents
Introduction
Thomas W. Gaehtgens and Heinz Ickstadt
American Genesis: The Landing of Christopher Columbus
Barbara Groseclose
Copley, West, and the Tradition of European High Art
Werner Busch
Self, Time, and Object in American Art: Copley, Lane, and Homer
Barbara Novak
Romantic Landscape Painting in America: History as Nature, Nature as History
Martin Christadler
Inventing the Myth of the American Frontier: Bingham's Images of Fur Traders and Flatboatmen as Symbols of the Expanding Nation
Françoise Forster-Hahn
Fictions of Nationhood: Leutze's Pursuit of an American History Painting in D&uumalut;sseldorf
Barbara Gaehtgens
Kindred Spirits: Notes on Swiss and American Painting of the Nineteenth Century
William Hauptmann
Strategies of Recognition: The Conditioning of the American Artist between Marginality and Fame
Ursula Frohne
Winslow Homer's National Style
Nicolai Cikovsky, Jr.
The Senses of Illusion
Olaf Hansen
Resisting Modernism: American Painting in the Culture of Conflict
Kathleen Pyne
Urban Iconography in Nineteenth-Century American Painting: From Impressionism to the Ash Can School
Hubert Beck
Biographical Notes on the Authors
Index
About the Authors
Press Reviews and Awards
"Excellent endnotes accompany each essay: 142 black-and-white images, a good index, and a useful section of biographical notes on the authors add to the book's high quality." —Choice