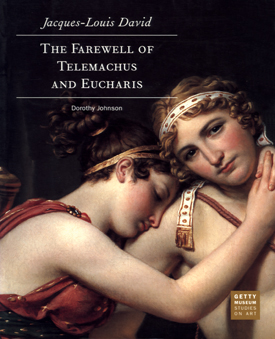 GETTY COLLECTIONS
Jacques-Louis David: The Farewell of Telemachus and Eucharis
Dorothy Johnson
1997
110 pages
PDF file size: 10.8 MB
Description
Jacques-Louis David's mythological painting of the farewell of the young lovers Telemachus and Eucharis was created during the artist's last years, when the return of the monarchy to France forced him into exile in Brussels. While several of David's paintings from this period show his preoccupation with the psychology of love, none depicts the emotions more tenderly than this painting from 1818. The innocence and purity of the adolescents, as well as the depth of their emotions, are rendered with great mastery. Dorothy Johnson's text explores the various strands in David's life—from history painter to revolutionary and regicide to exile—that came together at the end of his life when he created some of his richest and most complex works. The author shows how his relationship with his family and friends may have dictated his choice of themes, and how his influence on the modern French school of painting continues to be strong, despite his life in exile.

Jacques-Louis David: The Farewell of Telemachus and Eucharis is part of the Getty Museum Studies on Art series, designed to introduce individual works of note or small groups of related works to a broad public with an interest in the history of art.

Each monograph is written by a leading scholar and features a close discussion of its subject as well as a detailed analysis of the broader historical and cultural context in which the work was created.
Table of Contents
Introduction
Freedom in Exile
The Dream of Adolescent Love
The Mythological and Cultural Contexts
The Future of Myth
Notes
Bibliography
About the Authors
Dorothy Johnson is author of the study Jacques-Louis David: Art in Metamorphosis (Princeton, 1993). She is Director of the School of Art History at the University of Iowa.