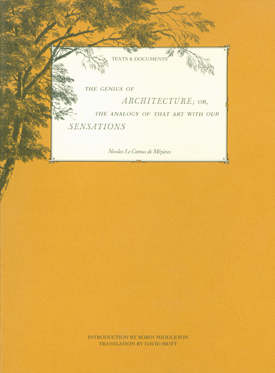 The Genius of Architecture; or, The Analogy of That Art with Our Sensations
Nicolas Le Camus de Mézières
Introduction by Robin Middleton; Translation by David Britt
1992
224 pages
PDF file size: 36.1 MB
Description
Nicolas Le Camus de Mézières (1721–circa 1793) emerges today as one of the more fascinating and influential architects of the French Enlightenment. Much admired by his contemporaries for his large circular market, the Halle au Blé (1763–67), Le Camus made his very significant mark on French Neoclassical theory with his fanciful and quixotic study The Genius of Architecture; or, The Analogy of That Art with Our Sensations (1780). In part a handbook on the planning of the French hôtel, in part a sensationalist exploration of form and its sentimental or expressive value—Le Camus's always discreet and politic analysis argues the point that architecture should please the senses as well as the mind. Not only did such a proposition bring to a conclusion the theories of planning and caractère put forward by Germain Boffrand and Jacques-François Blondel, it also supplied the theoretical underpinning for the formal explorations of Etienne-Louis Boullée, Claude-Nicolas Ledoux, and John Soane. These issues and others are considered in the masterly and informative introduction by Professor Robin Middleton, which traces the theoretical development of such ideas through classical times and the eighteenth-century theories of Jean-Louis de Cordemoy, Jean-Baptiste Dubos, Roger de Piles, Etienne Bonnot de Condillac, Claude-Henri Watelet, Thomas Whateley, and Jean-Marie Morel.

The Texts & Documents series offers to the student of art, architecture, and aesthetics neglected, forgotten, or unavailable writings in English translation.

Edited according to modern standards of scholarship and framed by critical introductions and commentaries, these volumes gradually mine the past centuries for studies that retain their significance in our understanding of art and of the issues surrounding its production, reception, and interpretation.

Eminent scholars assist in the selection and publication of volumes in the Texts & Documents series. Each volume acquaints readers with the broader cultural conditions at the genesis of the text and equips them with the needed apparatus for its study. Over time the series will greatly expand our horizon and deepen our understanding of critical thinking on art.
Table of Contents
Acknowledgments
Translator's Note
David Britt
Introduction
Robin Middleton
The Genius of Architecture; or, The Analogy of That Art with Our Sensations
Nicolas Le Camus de Mézières

Introduction
The Genius of Architecture

Orders of Architecture

Pedestal
Column
Entablature

Tuscan Order
Doric Order
Ionic Order
Corinthian Order
Composite Order
he Idea of a French Order

On the Art of Pleasing in Architecture
Exterior Decoration
On Distribution and Decoration

Vestibule
First Anteroom
Second Anteroom
Third Anteroom
Salon
Bedchamber
Boudoir
Looking Glasses
Dressing Room
Closet for Clothing
Closet of Ease
Water Closet
Baths
Anteroom to the Baths
Bathroom
Vapor Bath
Bedroom Adjacent to the Bath
Closet for the Bath
Closet of Ease
Linen Room
Cabinets
Grand Cabinet or Study
Back Cabinet or Private Study
Repository for Papers
Closet of Ease
Lobby
Library
Cabinet Adjacent to the Library
Cabinet of Medals and Antiquities
Cabinet of Natural History
Cabinet of Machines
Dining Room
Serving Room

Kitchens and Offices

Kitchen
Larder
Fish Larder
Wood Cellar
Roasting Chamber
Pastry Kitchen
cullery
Servants' Hall
Kitchen Yard
Offices or Pantries
First Pantry Room
Second Room, Workroom for Confectionery
Third Room, for Preparing the Desserts
Fourth Room, Storeroom for Confectionery
Fifth Room, Used as a Fruitery
Sixth Room, for Trays and Porcelain
Seventh Room, for the Silver
Eighth Room, for the Pantryman's Lodging
Ninth Room, for the Under Pantryman
Lodging for the Majordomo
Lodging for the Head Cook

Lodgings of the Various Officers

Secretary's Apartment
Under Secretary's Lodging
Librarian
Lodging of the Children of the House
Lodging of the Sons of the House
Young Ladies' Lodging
Steward's Lodging
Lodgings of the Valets de Chambre
First Valet
Second Valet
First Lady's-Maid
Second Lady's-Maid
Linen Room
Housekeeper's Lodging
Infirmary

Stable Yards

Of Stables and Carriage Houses
Stables
Stables for Saddle Horses
Stables for Visitors' Horses
Carriage Houses
Harness Room
Saddle Room
Dung Yard
Farrier
Lofts for Hay
Lofts for Straw
Lofts for Oats
Lodging of the Head Groom
Under Groom
Upholsterer
Depository for Furniture
Riding School

Appendix A
Appendix B
List of Nicolas Le Camus de Mézières's Publications
Index
About the Authors