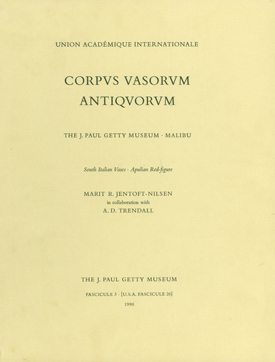 Corpus Vasorum Antiquorum: Fascicule 3
Marit R. Jentoft-Nilsen and A. D. Trendall
1990
pages
PDF file size: 12.1 MB
Description
Apulian painted vases in the J. Paul Getty Museum collection are extensively documented in this third fascicule in the Malibu series of Corpus Vasorum Antiquorum. The vases are arranged by shape and documented by photographs and profile drawings. Unbound plates are used for easy reference and comparison. The text includes detailed descriptions and complete biographies.
Table of Contents
FOREWORD, vii
PREFACE, ix
INTRODUCTION, xiii
ABBREVIATIONS, xiv
SOUTH ITALIAN VASES

IV D APULIAN RED-FIGURE

KRATERS, Plates 121-153
AMPHORAE OF PANATHENAIC SHAPE, Plates 154-158
HYDRIAI, Plates 159-161
KANTHIAROI, Plate 162
KNOB-HANDLED PATERA, Plate 163
LEKANIDES, Plates 164-165
PYXIDES, Plate 166
PLATES, Plate 167, 1-2
SKYPHOS OF CORINTHIAN SHAPE, Plate 167, 3-6
OINOCHOAI, Plates 168-172
EPICHYSEIS, Plates 173-175
RHYTA, Plates 176-178
About the Authors
Marit R. Jentoft-Nilsen is asssociate curator of antiquities at the J. Paul Getty Museum.

Professor A. D. Trendall teaches at La Trobe University, Australia.