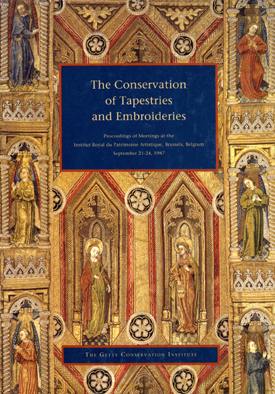 The Conservation of Tapestries and Embroideries
1989
140 pages
PDF file size: 6.23 MB
Description
Proceedings of Meetings at the Institut Royal du Patrimoine Artistique, Brussels, Belgium, September 21–24, 1987

The fifteen papers in this volume focus on treatments of western European tapestries and ecclesiastical embroideries, mostly from the Renaissance period, although one work, a liturgical sandal, dates back to the twelfth century, while the pilaster panels from Broni originated as recently as the 1740s.

Some of the papers present general concerns, such as the development of a comprehensive conservation program for textiles at the Metropolitan Museum of Art or the importance of compiling a thorough technical report. Most offer treatments of important textiles as case studies in the state of the art of textiles conservation.
Table of Contents
Forward
Luis Monreal
Summary of the Discussions
Liliane Masschelein-Kleiner
The Conservation of Embroideries at the Institut Royal du Patrimoine Artistique
Juliette De boeck, Vera Vereecken, and Tatiana Reicher
The Restoration of the Antependium of the Musée Paul Dupuy in Toulouse
Mechthild Flury-Lemberg
The Burgundian Vestments
Rotraud Bauer
Three Embroidered Pilaster Panels from the Church of San Pietro at Broni
Francesco Pertegato
Restoration of a Seventeenth-Century Chasuble at the Musée Historique des Tissus in Lyons
Marie Schoefer and Eric Houpeaux
The Restoration of a Twelfth-Century Liturgical Sandal at the Musée Historique des Tissus in Lyons
Marie Schoefer and Denise Lestoquoit
Second Sight: Further Investigation into the Construction of Ecclesiastical Embroideries and Tapestries
Stephen Cousens
Conservation Maintenance of Tapestries at The Metropolitan Museum of Art, 1987
Nobuko Kajitani
Tapestries: Conservation and Original Design
Karen Finch
Conservation of a Fifteenth-Century Tapestry from Franconia
André Brutillot
The Tapestries of the Sala dei Duecento in the Palazzo Vecchio
Loretta Dolcini
Gluttony and Avarice: Two Different Approaches
R. Bruce Hutchison
Two Case Histories: A Seventeenth-Century Antwerp Tapestry and an Eighteenth Century English Soho Tapestry
Ksynia Marko
The Conservation/Restoration of the Sixteenth-Century Tapestry The Gathering of the Manna
Yvan Maes
The Treatment of Two Sixteenth-Century Tapestries at the lnstitut Royal du Patrimoine Artistique
luliette De boeck, Michelle De Bruecker, Chantel Carpentier, and Kathrijn Housiaux