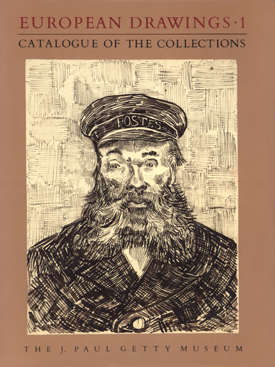 GETTY COLLECTIONS
European Drawings 1: Catalogue of the Collections
George Goldner with the assistance of Lee Hendrix and Gloria Williams
1988
368 pages
PDF file size: 33.3 MB
Description
Within a short time the Department of Drawings has acquired impressive holdings of European works on paper. This volume, the first in a series intended to keep scholars apprised of acquisitions, contains 149 entries on Italian, French, Flemish, Dutch, and other works ranging in date from the Renaissance through the nineteenth century. Artists represented include Rembrandt, Cezanne, Blake, Goya, Dürer, Savery, Rubens, Millet, Veronese, Caravaggio, Raphael, and numerous others. All drawings are illustrated at full-page size.
Table of Contents
Foreword
John Walsh
Preface and Acknowledgments
George R. Goldner
Plates
Italian School (Nos. 1–57)
French School (Nos. 58–85)
Flemish School (Nos. 86–100)
Dutch School (Nos. 101–125)
German School (Nos. 126–136)
Swiss School (Nos. 137–140)
Spanish School (Nos. 141–145)
British School (Nos. 146–149)
Artists' Biographies
List of Artists
About the Authors
George R. Goldner is curator in the Department of Drawings at the J. Paul Getty Museum.