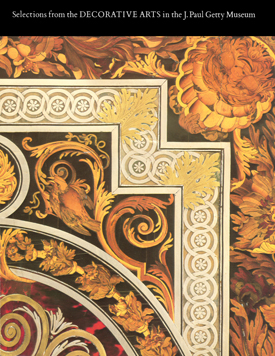 GETTY COLLECTIONS
Selections from the Decorative Arts in the J. Paul Getty Museum
Gillian Wilson
1983
116 pages
PDF file size: 11.6 MB
Description
J. Paul Getty began to collect French decorative arts in the 1930s and continued to do so until his death in 1976. The Museum's collection has continued to grow since then at a rapid pace and contains over three hundred individual pieces at the time this book is published. This volume illustrates fifty of them. The selection represents a cross section of the collection, which covers the period from approximately 1660 to 1800.

In the eighteenth century it became fashionable in Parisian society to decorate the interiors of houses with Far Eastern materials such as lacquer and porcelain. This taste was catered to by the marchands-merciers, members of a guild who combined the functions of the modern interior decorator, the antique dealer, and the picture dealer. These men devised highly ingenious settings for Far Eastern porcelains to adapt their exotic character to the French interiors of the period. Information about them and their clientele has been used in cataloguing the Getty Museum's collection of mounted oriental porcelain, which is large and of high quality.

This book is not a catalogue, nor is it a mere picture book or checklist. Each piece has been chosen because it represents a particular aspect of the crafts involved in the production of objects that were made by Parisian craftsmen for the crown, the nobility, and the rich bourgeoisie.

The pieces are arranged in chronological order. Translations of the French archival extracts, an index, and a concise bibliography have been provided.
Table of Contents
Introduction
Fifty Selections of the Decorative Arts in the J. Paul Getty Museum
Appendix: Translations of the French Extracts
Bibliography
Index
About the Authors
Gillian Wilson is curator of European Decorative Arts at the J. Paul Getty Museum.