The Digital team at Getty Publications is charged with producing innovative and long-lasting digital publications, building and sharing open platforms and tools for the creation and digital dissemination of both digital and print publications, and supporting the growing community of publishers and technologists working on art-related digital projects at the Getty and beyond.
Recent Talks and Posts
Related Work across the Getty
The Getty's commitment to digital publishing extends to many areas of the organization. Here are a few related efforts from around the Getty Trust: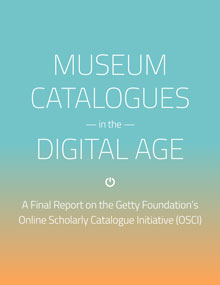 For more on the Online Scholarly Catalogue Initiative, don't miss the recently published final report, Museum Catalogues in the Digital Age.