Special Issue: Journal of Cultural Heritage Management and Sustainable Development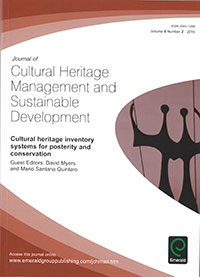 The Getty Conservation Institute and CIPA, the ICOMOS International Scientific Committee on Heritage Documentation, have collaborated to develop and edit a special issue of the Journal of Cultural Heritage Management and Sustainable Development, published by Emerald Group Publishing, focused on cultural heritage inventory systems.
Free Access
For a limited time, online access to the full issue is available free of charge courtesy of Emerald Insight. Free access ends May 23, 2018.
Inventories provide the foundation of any heritage agency's planning, management and conservation efforts. This special issue aims to increase the ability of educators, professionals, heritage institutions, and managers of heritage places to learn from the experiences of others, including emerging and innovative approaches, when embarking on efforts to establish or maintain heritage inventories.
Included in this special issue are articles on the GCI's Arches heritage inventory and management platform co-authored by GCI senior project specialist David Myers and GCI senior project manager Alison Dalgity, and on promoting the effectiveness of inventories as tools for sustainable heritage management written by David Myers, special issue co-editor.