Valley of the Queens (2006–2011)
Site and Visitor Management
Site management problems are significant at the Valley of the Queens. Underlying many of the management issues are inadequate staff training, entrenched practices, lack of incentives, and poor wages. There is no operational plan to guide daily activities and responsibilities. Such a plan needs to be developed in conjunction with job profiles and training for site personnel (both professional and unskilled), as well as for vendors from the local community.
Other site management issues that need to be addressed in a management plan include:
Ipreparedness and response plan and equipment for flood-related emergencies,
Imaintenance and monitoring regimes for all aspects of conservation and management (ancient features and modern infrastructure), which currently are rudimentary,
Iaccess to monitoring documentation,
Iand a sustainable system for waste management.
In recent years, with the rise of mass tourism to pharaonic sites in Egypt, excessive visitation to the Valley of the Queens and its tombs has emerged as a threat to these sites. Visitors affect the microclimate within tombs, its humidity and carbon dioxide levels, and the physical space by touching, scratching graffiti, bumping heads on low ceilings, and so forth. This has led to installation of intrusive glass barriers, which obscure viewing.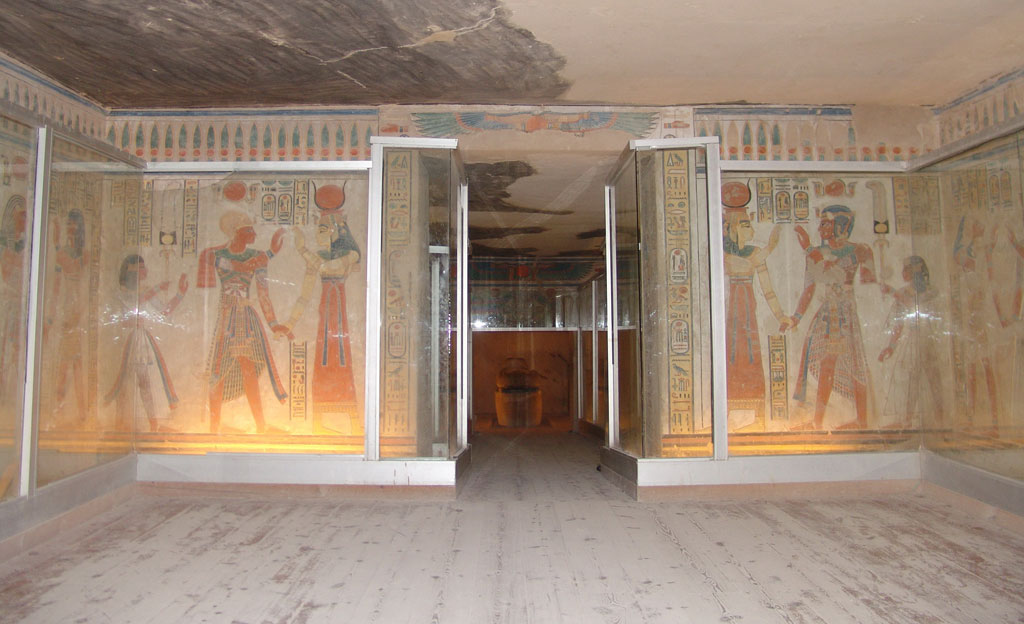 Current interior presentation of tomb QV 55 with glass barriers that obscure clear viewing of the paintings.
The combined effect of carbon dioxide rise, crowding, barriers, and lack of interpretation is a degraded visitor experience even when the wall paintings themselves are protected.
Presentation and interpretation of the site to visitors are important aspects of visitor management. The three tombs open to the general public (QV 44, 52, 55) have outdated and inadequate furnishings and protection and inadequate or non-existent ventilation systems. New systems and methods for lighting, protecting, and ventilating the tombs are required. Environmental monitoring in the tomb of Nefertari and the three tombs open to general visitation (QV 44, 52, and 55) was undertaken to understand the environment in the tombs.
In 2012 design specifications were completed by the GCI, working with consultant Shaboury Associates, for the presentation of tomb QV 55 (barriers, lighting, and ventilation), to serve as a prototype for interior presentation.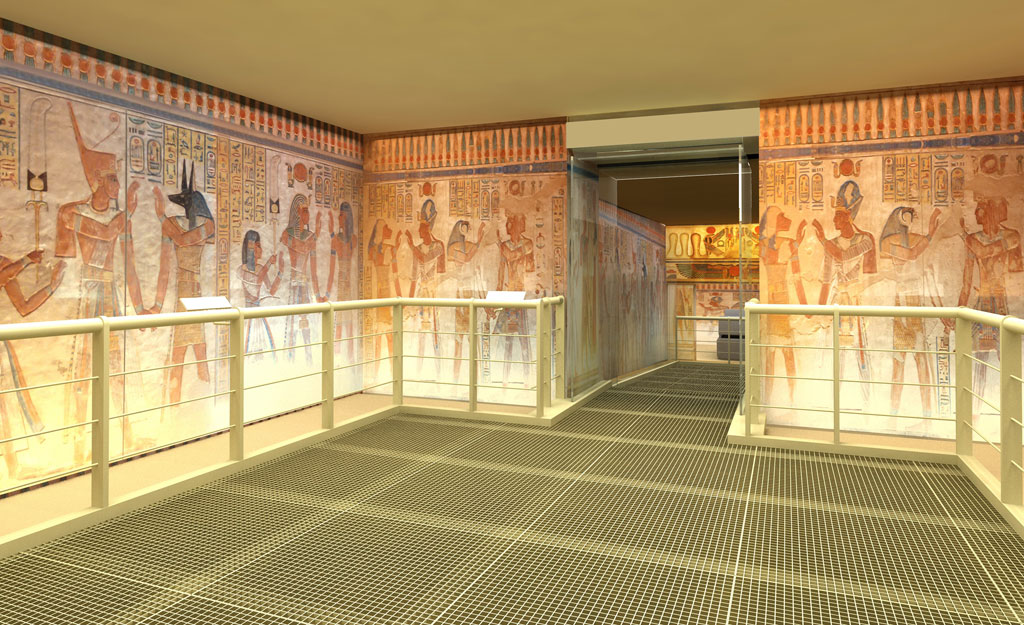 Rendering of proposed design of the interior of QV 55 with low railing at sufficient distance to prevent touching the walls, but allowing unobstructed viewing of the paintings (design by Shaboury Associates, Alexandria).
The Valley of the Queens receives fewer visitors than other West Bank sites such as the Valley of the Kings. With Nefertari's tomb closed to general visitation, the attraction of the Valley of the Queens to visitors is limited.
This represents a challenge but also an opportunity for an interpretation program that will provide a richer educational experience for two categories of visitors currently not catered to at other sites: (1) the independent traveler or visitors in small groups (2) Egyptian nationals who are poorly represented at pharaonic sites.
The Valley of the Queens offers exceptional opportunities for experiencing a far greater range of historical use and features than other sites on the West Bank, and this is a focus of interpretation planning for the site. Site and visitor management training of seven Egyptian authority inspectors included assessment, discussion and participation in development of ideas, and implementation of temporary measures to address some of these issues.
The GCI developed plans for site and visitor management that include:
Development of a long-term operational plan for the site
Visitor management systems, including a reservation system and distribution of visitors
Maintenance and monitoring protocols
Staff profiles and training needs
A business plan to ensure a source of reliable income for staffing, conservation, and maintenance
Design, fabrication and installation of interior lighting, barriers and ventilation for QV 44, 52, 55,
and 66
Content development, design, fabrication and installation of bilingual (English & Arabic) interpretation panels for shelters near open tombs and for the orientation hall
Page updated: August 2019