Earthen Architecture Initiative
Strategic Planning

The GCI has a long history of contributing to collaborative strategic endeavors to advance the study and conservation of earthen architecture. Since 2000, the GCI has organized and participated in a series of meetings with experts in the field, including meetings on research and structural grouting with the ultimate objective of identifying key areas for project research and implementation. Recently, the Earthen Architecture Initiative partnered with several institutions in the Mediterranean basin to focus on the needs in the field with the aims of building capacity in the region and enhancing networks for practitioners.
Experts Workshop on the Study and Conservation of Earthen Architecture in the Mediterranean Region
In March 2009, the GCI organized a two-day workshop in Villanovaforru, Sardinia for professionals with expertise in earthen architecture, construction, and conservation. The workshop was presented in partnership with the School of Architecture (DiARCH) at the University of Cagliari in Sardinia, Italy; Escola Superior Gallaecia of Portugal (ESG ); and the International Research Center on Earth Construction and UNESCO Chair of Earth Architecture of l'École Nationale Supérieur d'Architecture de Grenoble, France (CRATerre-ENSAG), and with the generous support of the province of Medio Campidano and was held in conjunction with Mediterra 2009: the 1st Mediterranean Conference on Earth Architecture.
The experts workshop provided a forum to discuss two major issues: the challenges facing the conservation and management of earthen sites—broadly interpreted to include archaeological sites, vernacular and monumental architecture, as well as, cultural landscapes where earth is a predominant feature—and earthen architecture for sustainable development.
Participants included sixteen professionals from Bosnia-Herzegovina, Cyprus, Egypt, France, Greece, Italy, Morocco, Portugal, Slovenia, Spain, and Turkey who were selected for participation based on their expertise in the study and teaching of earthen architecture, materials science, construction, and conservation.
The GCI's involvement in the workshop facilitated the development of a regional action plan to advance the field in the above-mentioned themes, including a list of priorities for the Mediterranean region based on current trends and resources needed for research, training, and implementation of projects.
Further information on the workshop methodology, themes, working sections, and action plan can be found in the workshop's final report (PDF, 35pp., 3.5MB).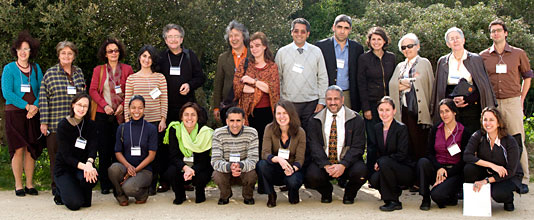 Workshop participants. Front row, left to right: Elise Yakuboff (Coordinator), Bakonirina Rakotomamonjy (Moderator), Claudia Cancino (Moderator), Mohamed Boussalh (Morocco), Mariana Correia (Organizers), Ahmed Rashed (Egypt), Amila Ferron (Organizer), Azadeh Vafadari (Rapporteur), Antonia Theodosiou (Cyprus). Back row, left to right: Leïla El-Wakil (Egypt), Bilge Isik (Turkey), Claire-Anne de Chazelles (France), Maddalena Achenza (Organizer), Hubert Guillaud (Organizer), Mauro Bertagnin (Italy), Maria Fernandes (Portugal), Said Kamel (Morocco), Humberto Varum (Portugal), Valentina Cristini (Spain), Juana Font (Spain), Vjekoslava Sankovic (Bosnia-Herzegovina), Gilberto Carlos (Rapporteur). Not pictured: Georgia Poursoulis (Greece) and Borut Juvanec (Slovenia)
Last updated: January 2011