Master Class on Museum Lighting: Options Beyond White LED
Appearance and Preservation with LED Lighting Systems
February 11–12, 2016
MacMillan Education Center at the Smithsonian American Art Museum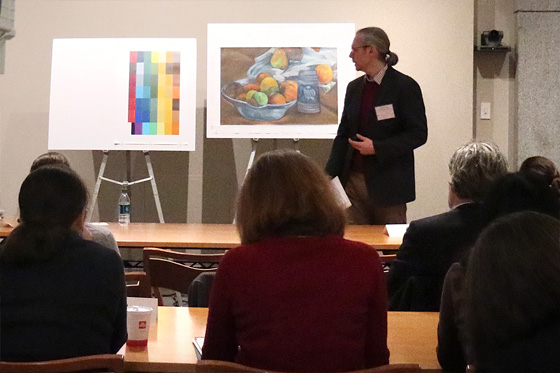 Course instructor Joseph Padfield.
The Getty Conservation Institute and the Lunder Conservation Center at the Smithsonian American Art Museum and the National Portrait Gallery, Washington DC, presented a two-day master class on recent developments in museum and gallery lighting.
It provided a structured framework for understanding and discussing recent advances and methodologies for the effective use and evaluation of the new generation of LED lighting, including the accompanying control options for museum settings. It specifically addressed the opportunities and challenges of the introduction of color-tunable LED lighting systems and explored how these can be utilized in museum exhibits. It reflected on energy consumption issues of new LED lighting systems. The challenges of balancing aesthetics with prevention were also discussed. A variety of conceptual, digital, and physical tools to assess the risk of damage to collections from lighting were reviewed.
Class Content
The master class, which included a brief introduction to the history of LED lighting, focused on the ways LEDs have matured since phosphor-converted, blue-pumped white LEDs. It discussed the evolution of color quality metrics and covered considerations when selecting color-tunable products (including ensuring compatibility and negotiating for color warranties) and wireless control options. Practical demonstrations with color-tunable lighting allowed participants to experience the opportunities and limitations of these new technologies. The master class introduced the concept of surveying color preference, which may be adapted by the participants to assess lighting designs in their own institutions. It concluded by exploring what the near future holds in options for museum lighting.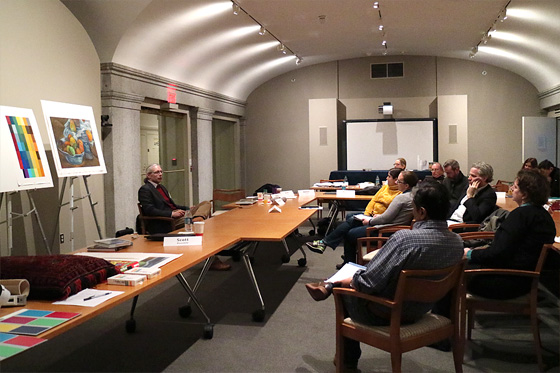 Padfield leading a discussion with the participants about a color preference survey.
At the end of the master class, participants:
were familiar with current research and recent developments in museum and gallery exhibition lighting;
understood color quality metrics (used to describe color, including CRI [Ra], TM30 [Rf, Rg], gamut area vector diagrams, CQS spreadsheet, CCT, Duv and CIE chromaticity coordinates);
understood how spectrophotometers, colorimeters are useful tools to measure and assess color quality;
discussed how photometrics influence the colorfulness of the objects we see;
had a more nuanced understanding of damage caused by light, which helps to incorporate illumination guidelines in a lighting design;
had a better understanding of the challenges and concerns of different professionals, which would allow improved communication with institutional colleagues on exhibition lighting;
could identify visual assessment methods available for understanding color quality.
Principle Instructors
Jim Druzik, Senior Scientist, Getty Conservation Institute
Scott Rosenfeld, Lighting Designer, Smithsonian American Art Museum and the Renwick Gallery
Naomi Miller, Designer/Senior Scientist, Pacific Northwest National Laboratory
Tess Perrin, Lighting Scientist, Pacific Northwest National Laboratory
Joseph Padfield, Conservation Scientist, National Gallery, London
The Lunder Conservation Center is a facility shared by the conservation departments of the Smithsonian American Art Museum and the National Portrait Gallery. Video from the Lunder Conservation Center's 2013 symposium, Gallery Illumination: LED Lighting in Today's Museums, is available on YouTube.

Page updated: April 2016