Identification and Conservation Strategies for Color and Digital Prints
28 July–8 August 2014
Hungarian National Museum, Budapest
Application period is closed. For questions please contact euphotos@getty.edu.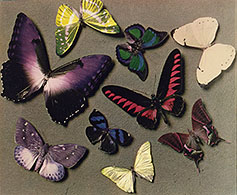 Color and digital prints—whether created as a means of artistic expression, as personal mementos, or to capture historic events—are an important part of the culture and artistic heritage of the twentieth and twenty-first century. Museums, archives and attics are full of them, and conservators are called on to preserve them.
This second workshop in the
Advanced Topics in Photographic Conservation series
, Identification and Conservation Strategies for Color and Digital Prints, is presented in partnership with the Hungarian National Museum and will take place at the museum's facilities in Budapest.
The workshop will provide participants with the theoretical and
practical basis to:
identify
different color and digital processes
recognize
and understand the needs of these photographic materials
prioritize
the conservation needs within their collections
communicate
with institutional colleagues on collection priorities
decide
on and perform conservation treatments on these materials if necessary
Lectures, demonstrations, identification exercises and hands-on activities designed to test and apply different treatment approaches comprise the workshop program. Participants will be provided with sample prints for identification and treatments. Evaluation of identification techniques, treatment applicability and effectiveness will be carried out through group discussions at the end of each day.
Principal Instructors
Martin Jürgens, Conservator of Photographs, Rijksmuseum, Amsterdam
Sylvie Pénichon, Conservator, Department of Photographs, Art Institute of Chicago
Tram Vo, Project Specialist, Getty Conservation Institute, Los Angeles
Teaching Assistant: Jana Krizanova, Photograph Conservator, Academy of Fine Arts and Design, Bratislava
The workshop is designed for mid-career conservators with at least three to five years of experience working in the area of paper or photograph conservation. Paper conservators have prior knowledge of photographic processes and photograph preservation. This workshop is designed as a follow-up to the
Fundamentals of the Conservation of Photographs
course.
Last updated: February 2014