Cleaning of Acrylic Painted Surfaces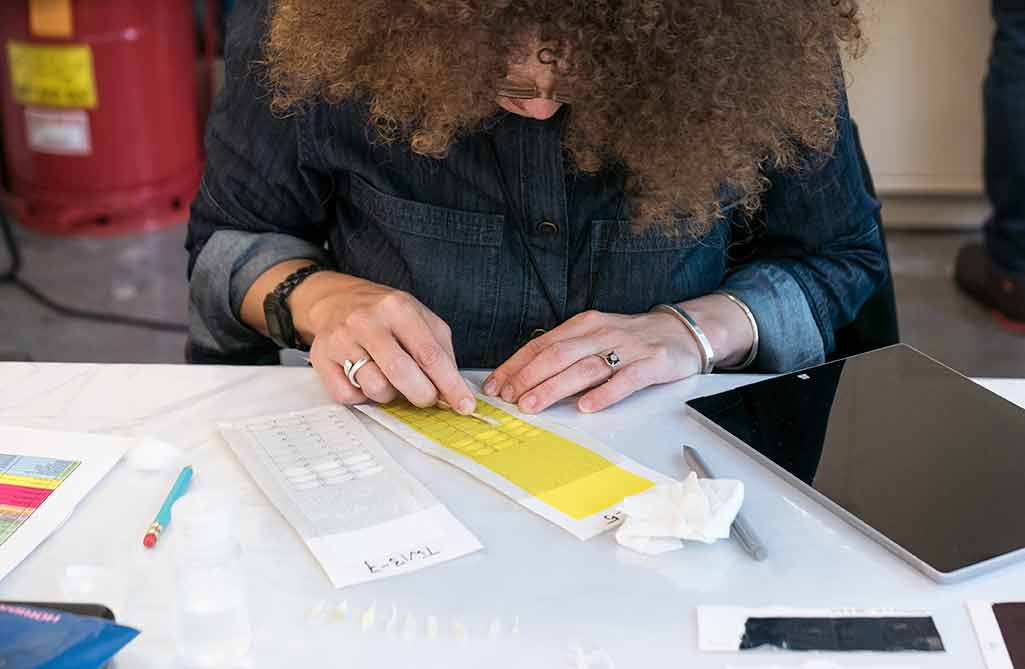 Cleaning tests of acrylic paint samples at the 2016 course. John and Mable Ringling Museum. Photo: Stephanie Auffret.
CAPS 2017
Hamburger Kunsthalle
July 18–21, 2017
We are pleased to announce Cleaning of Acrylic Painted Surfaces 2017 (CAPS 2017) to be held July 18–21, 2017, at Hamburger Kunsthalle, Hamburg, Germany.
CAPS 2017 is part of an ongoing series of GCI workshops that aim to directly engage conservators with the current research on identifying a broader range of cleaning systems and methodologies for acrylic painted surfaces. This workshop is part of GCI's Research into Practice Initiative and builds upon an earlier colloquium and series of workshops.
Description
The workshop will include lectures presenting new research, technology and practical advances, much of which has been developed by the course instructors themselves. There will also be a significant amount of hands-on activity designed to apply and test the different approaches. Participants will be provided with commercially available and custom-prepared cleaning materials for testing on paint films. Group discussions will be used to evaluate materials, techniques, applicability and effectiveness.
The objectives of the CAPS workshop are to:
communicate the results of recent scientific research and new developments in conservation practice
stimulate a dialogue between researchers and conservators about the application of new research and technical insights to the conservation
develop critical thinking skills that will help participants design project-specific cleaning systems in their own labs
identify areas where further research is needed
Instructors
Tom Learner, Head of Science, Getty Conservation Institute
Bronwyn Ormsby, Principal Conservation Scientist, Tate
Chris Stavroudis, Conservator in private practice, Los Angeles
Venue
The permanent collection of the Hamburger Kunsthalle reflects 700 years of art and ranks among the most substantial public art collections in Germany. Since the 1890s the Hamburger Kunsthalle has been involved in the conservation and restoration of prints and drawings. In 1919, a studio for paintings conservation was established. Today, six conservators are responsible for a collection of around 3,500 paintings, 1,000 sculptures and installations, and 130,000 drawings, prints, and photographs.



*You will need Acrobat Reader version 8 or above to complete. Download latest version.
Page updated: March 2017