Cleaning of Acrylic Painted Surfaces
Canadian Conservation Institute
August 12—15, 2014
Application period is closed. Contact caps@getty.edu for more information.
CAPS 2014 will include lectures on new research, technology and practical advances, much of which has been developed by the course instructors themselves. There will also be a significant amount of hands-on activities designed to apply and test the different approaches.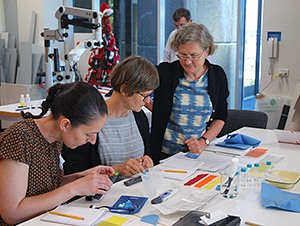 Participants will be provided with commercially available and custom-prepared cleaning materials for testing on paint films. Group discussions will be used to evaluate materials, techniques, applicability and effectiveness.
Workshop Details
Objectives of the workshop include:
communicate results of recent scientific research and new developments in conservation practice
stimulate a dialogue between researchers and conservators about the application of new research and technical insights to the conservation of acrylic painted surfaces
develop critical thinking skills that will help participants design project-specific cleaning systems in their own labs
identify areas where further research is needed
Instructors
Tom Learner
, Head of Science, GCI
Bronwyn Ormsby
, Senior Conservation Scientist,
Tate, Head of Tate AXA Art Modern Paints Project
Chris Stavroudis
, conservator in private practice, Los Angeles
Alan Phenix
, Scientist, GCI,
Modern and Contemporary Art Research Initiative
The CAPS 2014 Workshop is part of GCI's Research into Practice Initiative and builds upon an earlier colloquium and series of workshops.
---
About CCI
The Canadian Conservation Institute (CCI), a Special Operating Agency of the Department of Canadian Heritage, was created in 1972 to promote the proper care and preservation of Canada's cultural heritage and to advance the practice, science and technology of conservation. It is located in Ottawa, Ontario, Canada.
Through conservation science, treatment and preventive conservation, CCI supports heritage institutions and professionals in conserving Canada's heritage collections so they can be accessed by current and future generations. This mission is accomplished through conservation research and development, expert services, and knowledge dissemination through CCI's publications, library, and professional development opportunities.