Cleaning of Acrylic Painted Surfaces
Workshop 2013: Art Gallery of New South Wales
Application period for this workshop is closed.
The GCI and the Art Gallery of New South Wales are pleased to host a second 2013 Cleaning of Acrylic Painted Surfaces (CAPS) workshop to be held at the Art Gallery of NSW, Australia, December 10-13, 2013. The CAPS workshop engages conservators with current research into identifying a broader range of cleaning systems and methodologies for acrylic painted surfaces.
Overview
The 2013 CAPS workshop is part of the GCI's
Research into Practice Initiative
and builds upon an earlier colloquium and series of workshops in this area. Its objectives are to:
Communicate the results of recent scientific research and new developments in practice
Stimulate a dialogue between researchers and conservators about the application of new research and technical insights to the conservation of acrylic painted surfaces
Develop critical thinking skills that will help participants design project-specific cleaning systems in their own labs
Identify areas where further research is needed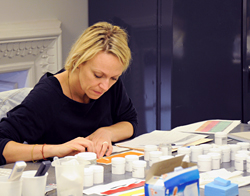 The workshop will include lectures presenting new research, technology and practical advances, much of which has been developed by the course instructors.
There will be a significant amount of hands-on activity designed to apply and test the different approaches. Participants will be provided with commercially available and custom-prepared cleaning materials for testing on paint films. Group discussions will be used to evaluate materials, techniques, applicability, and effectiveness.
For additional information, please contact
CAPS@getty.edu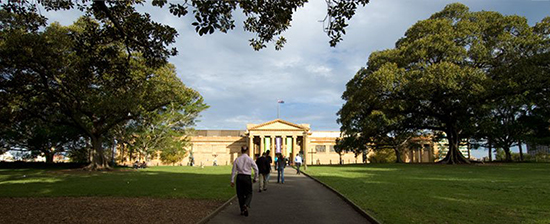 Venue:
The
Art Gallery of New South Wales
is one of Australia's most popular art museums and is a vital part of Sydney's cultural life. The Gallery has been located at its present site in Sydney's Domain parkland since 1885. The Grand Courts, originally built in 1895 and 1899 in grand Victorian style and scale, house premier collections of European and Australian art up to the end of the 19th century. More recent additions to the museum celebrate the art of our times with displays of modern and contemporary art, and a major new building is planned for 2021 called Sydney Modern. The Art Gallery of New South Wales has had conservators on staff since the 1890s and now has permanent staff in the specialties of paintings, frames, works on paper, Asian works on paper and objects conservation. The workshop will be held in the conservation department located on the top floor of the museum.

Last updated: September 2013